Do you want to create custom calculators on your WordPress blog? The old way was, redirecting your website visitors to a calculator website/ hiring a developer to build a web app, etc… If you redirect your website visitors, they will never come back to your website.
On the other hand, hiring a developer is not cheap. You might want to spend hundreds of dollars on creating a custom calculator.
Well… no more…
In this post, we are going to show you how can you create custom calculators using the Formidable Forms WordPress plugin.
Formidable Forms
Formidable Forms is an awesome freemium WordPress form builder plugin. The free version of Formidable Forms is used by more than 200,000 WordPress blogs and for creating simple contact forms, that's good enough. The premium version of Formidable Forms will give you access to payment gateway integrations, email marketing integrations, advanced features, etc…
Well, here, we are going to show you how can you easily create a custom calculator using Formidable Forms – a car payment calculator.
How To Create Custom Calculators Using Formidable Forms?
The first thing you need to do is, install and activate the premium version of Formidable Forms. If you haven't purchased the plugin yet, there are 3 premium plans are available.
Basic – $99 a year.
Business – $199 a year.
Elite – $399 a year.
The free version is free for the lifetime. But you will get some restrictions there. You can purchase the plugin using your credit card or PayPal account. Once you got purchased the premium plugin, log in to your Formidable Forms account, download the plugin file.
Log in to your WordPress dashboard, go to add new plugins section, upload the plugin files.
Once you got installed the plugin, activate it.
Plus, Formidable Forms requires a premium license key.
Get the license key from the Formidable Forms account, paste it there and verify the key.
If your entered key is valid, you will see a success message!
Car Payment Calculator Form Setup
In your WordPress dashboard, you could see the plugin settings. By default, the plugin will create a sample contact form. Well, you can edit that form or create a new one from scratch. In our case, we are going to create a new form using one of the form templates.
Once you clicked on the add new button, you will see some pre-made templates.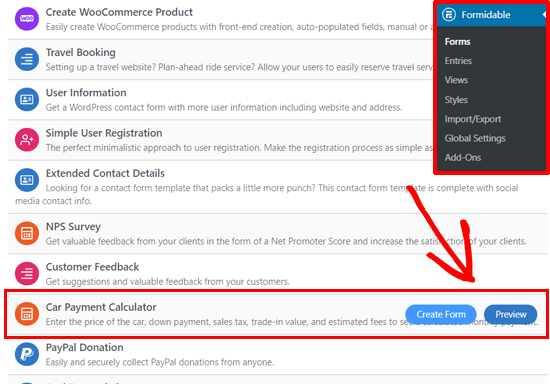 If you'd like to see a live preview of the form, simply click on the preview button. On a pop-up, you could see the exact form.
If you are good to go, simply click on the create form button. You need to name your form before redirecting to the form builder wizard.
Then, you will be redirected to the form builder wizard.
In the left side, you could see all the fields which you can be used on the form. The right side will show you a live preview of the form. Plus, you can always add/ remove/ edit fields.
In the form settings, configure the form name, description, etc…
From the actions and notifications settings, you can add integrations, destination email, subject line, etc…
Once you have done that, update the form.
Now, we have successfully created a new contact from. It's time to embed it on your blog.
Embedding The Form
You can embed the form to your posts/ pages/ custom post types using 2 methods.
Shortcode.
Formidable Forms Gutenberg Block.
Since most WordPress blogs are using Gutenberg, we will be also showing the same method. Go to a page where you need to display the form. In the content area, search for Formidable Forms.
Add it to your editor. Then choose the form from the Formidable Forms block.
Then publish the page.
If you check the page from the frontend, you could see the live-action.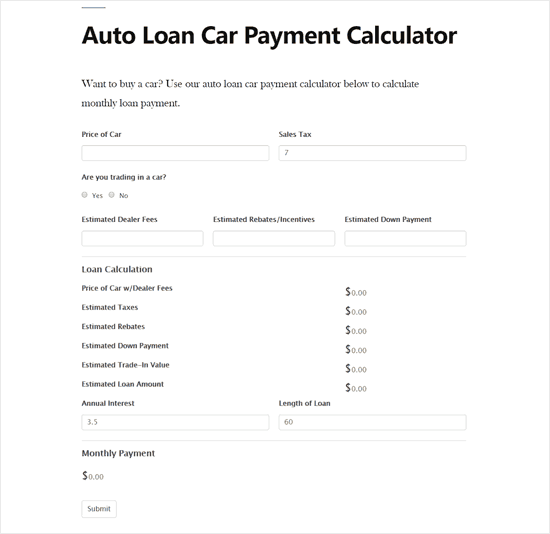 Impressive, isn't it?
Get Started With Formidable Forms
You can get the premium version of Formidable Forms from below.
Get Started With Formidable Forms
This is how you create custom calculators using Formidable Forms.
Have you found this post useful?
If you did, please consider sharing this with your friends and fellow bloggers on social media. This would probably help someone to get the best form builder plugin for WordPress which will allow creating custom calculators!
Features

Performance

Support

Ease of Use

Pricing