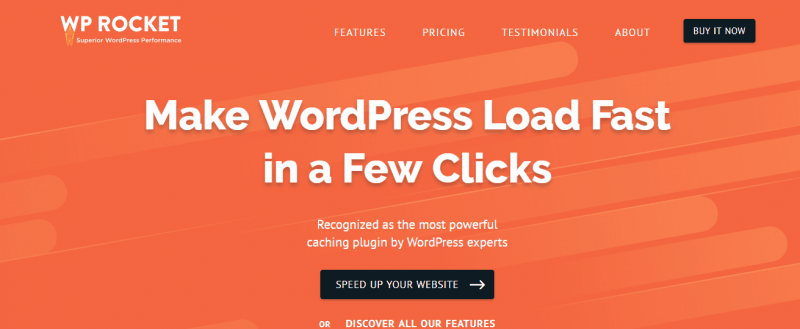 Are you worried about your WordPress website's loading time? I am pretty sure that as a beginner, you are so much concerned about it. Well, for speed optimization, you could look into using a caching plugin, a CDN, an image compression plugin, and some simple hacks.
A powerful caching plugin will do the job for you. And there are so many caching plugins are available like WP Super Cache, WP Faster Cache, W3 Total Cache, etc…
Have you ever heard about the WP Rocket? WP Rocket is one of the best caching plugins for WordPress. And guess what, In this post, we are going to share the WP Rocket review here!
WP Rocket is one of the top plugins I recommend to my visitors. I am always using it on Sreehari P Raju to make it even faster!
WP Rocket Review
NOTE: We are using the same plugin – WP Rocket – on all our WordPress installations! We trust WP Rocket, and the WordPress website will be like a rocket in the name of speed!
Is WP Rocket Free?
Sadly, No.
The WP Rocket caching plugin is a complete premium plugin. There is no lite version or free version available of this plugin. The basic plan starts at $40.
Installation and Activation
You can't install WP Rocket directly from the WordPress plugin repository. Once you opt-in for a premium plan, you can log in to your WP Rocket account, download the latest version of the plugin from there.
Now, go to the add new plugin section and upload the downloaded plugin.
Once you got installed the plugin, simply activate it.
Under WordPress settings, you can find the plugin settings. Simply activate the plugin.
That's it. Now, you are ready to configure the plugin!
WP Rocket Features
By paying for this premium plugin, we must get some excellent features to make our blog/ website faster than usual. Well, you will get the most advanced and the best in business features!
Here are them!
Quick Setup.
Page Caching.
Cache Preloading.
Sitemap Preloading.
GZIP Compression.
Browser Caching.
Database Optimization.
Google Fonts Optimization.
Lazyload.
Minification.
Cloudflare Compatibility.
CDN integration.
DNS Prefetching.
Import/ Export Settings.
Developer friendly.
And much more. Well, let's keep an in-depth look into the features.
Quick Setup
The settings are pretty simple, according to the other popular caching plugin settings. Even a beginner can simply configure the WP Rocket WordPress plugin on his blog. No need to hire any freelancer from any marketplaces like Fiverr or Upwork.
Page Caching
Enabling caching is pretty simple. You can do it in a single click of your mouse!
Cache Preloading
According to your sitemap settings, you can preload it. Preloading it will make our website up to date with content, and it will show the latest posts to the visitors.
GZIP Compression
GZIP compression will make your website even faster! There are so many plugins are available out there for enabling GZIP compression. Or, you could do it by editing your htaccess file.
Well, no more additional plugins or editing. Using this WP Rocket plugin, you can simply enable GZIP compression on your website.
Browser Caching
Browser caching is one of our favorite features. When a user loads the website, the CSS, JS files will get stored in his browser. When he visits another page of the site, the static files will get served from his browser. The website doesn't want to load them again!
Database Optimization
When we need to optimize our database, we may want to consider plugins like WP-Optimize. But, WP Rocket got the feature inside! You have reached the control of full database optimization!
Also, there you can schedule the optimization. In our case, we are cleaning the database daily. No manual action needed. Once you set this up, you are good to go!
Google Fonts Optimization
Most theme developers prefer using a Google Font in their theme. Not just developers. We all love Google Fonts. We using more Google Fonts will make more HTTP requests, increase the loading time.
Combining the Google Fonts will optimize the HTTP requests, make the website faster.
Lazyload
Lazyload is an optimization tech that is used for images. By enabling this, your images will load faster – only when a user scrolls down to the specific section.
In our blog, we are not using it. We are using a third-party plugin called BJ Lazy load for this purpose.
Minification
By minifying CSS, JS, and HTML files, you can load your website faster than usual. Here are the settings.
Cloudflare Compatible
Most of us are using Cloudflare as CDN. It's free and will make our website even faster than we think. In the WP Rocket settings, you can integrate your Cloudflare account with WP Rocket!
On top of that, you can easily integrate your website with additional services like Sucuri security, Google Analytics, and Facebook Pixel!
CDN Integration
Serving images and other resources from a CDN will make your website faster. Without getting any error, you can integrate your website with CDN! All you need to do is simply enter your CNAME.
DNS Prefetching
We all are calling external URLs from our website. Sometimes, this will make our sites slow. Using the DNS prefetching feature offered by WP Rocket, you can easily make sure external files load faster than usual.
We highly recommend using this feature.
Import/ Export Feature
Let's say you are already using WP Rocket on one of your websites. The configuration is fantastic, and the page speed got improved. When you need to WP Rocket on another website, it will take some time for you.
Thankfully, the team got an import/ export feature, which will help you to import all plugin settings to a file, export it into another website. This is pretty cool!
Pricing
The pricing of the WP Rocket plugin is clear and straightforward.
UPDATE: They updated their pricing a few months ago! If you want to save money on purchase and renewal, you must get the WP Rocket plugin right now!
Right now, they have three premium plans are available.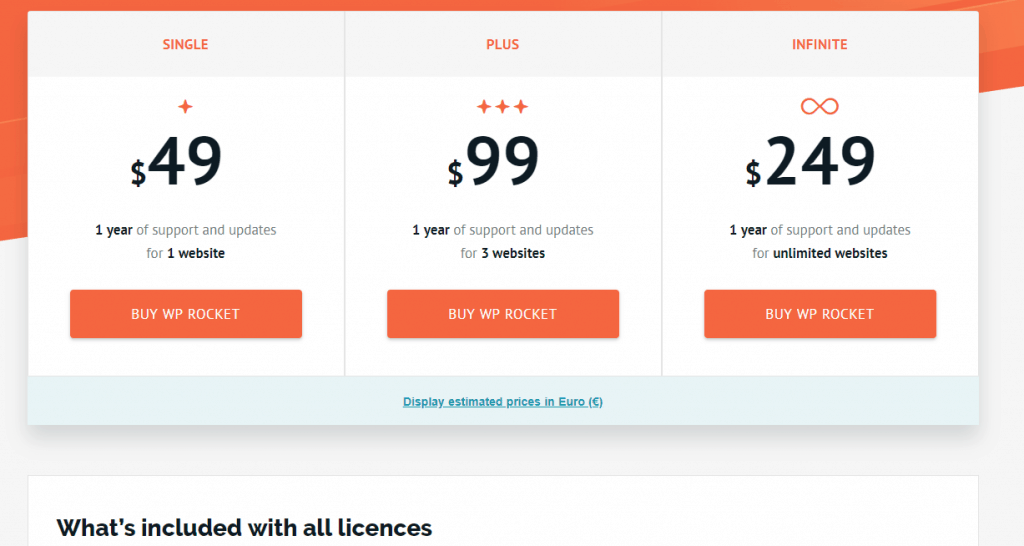 Single – $49/ yr – 1 Website.
Plus – $99/ yr – 3 Websites.
Infinite – $249/ yr – Unlimited Websites.
Pick a plan according to your use. If you have only 1 WordPress blog, you just need the Single site license plan. When you have 2 or 3 websites, the Plus plan will work fine.
The Unlimited site license option will be a good fit for you if you have more than three websites which need to be rocket fast!
Well, wait a minute before purchasing the plugin. We have got something special for you!
Money-Back Guarantee
The team is offering a 30-days money-back guarantee. If you are not happy with your purchase, they will give your money back. No questions asked. I am pretty sure that you won't go for that.
How To Purchase WP Rocket?
We have helped so many folks to get the WP Rocket plugin. And in this section, we are going to show you how you can purchase the WP Rocket WordPress plugin.
First of all, go to the WP Rocket website and the pricing page. There, you have three pricing plans.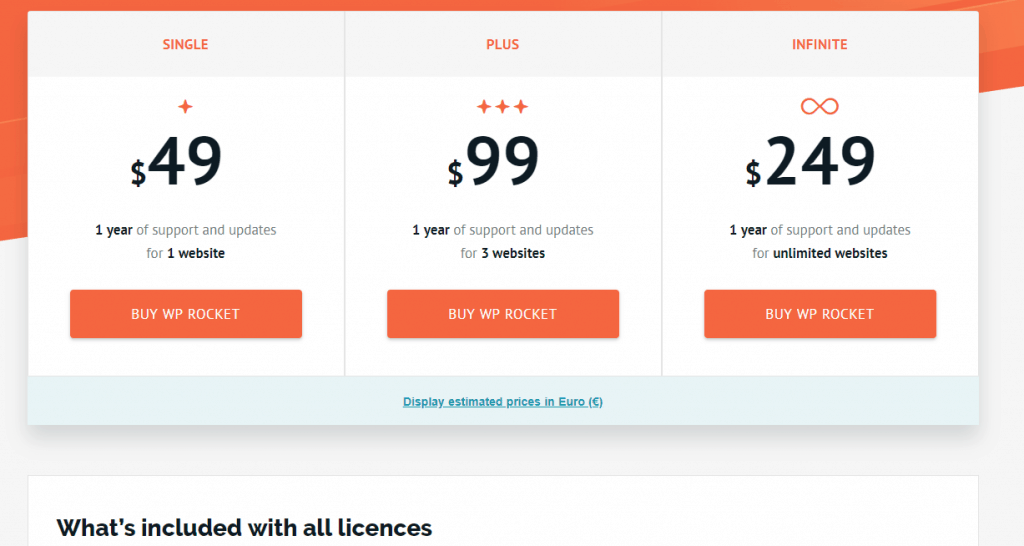 Let's says you'd like to purchase the unlimited website option. This is the best WP Rocket plan if you have so many projects going on or if you represent a web development agency.
Get started with the plan.
Soon, you will be redirected to the checkout page.
At the bottom of the page, you can see that your total price to pay is about $249.
You can complete the payment via PayPal funds or by using your credit card.
Comparison
Is WP Rocket is the best choice for you? Before purchasing something online, we all will think twice. There are few alternatives are available for WP Rocket:
WP Super Cache.
WP Fastest Cache.
W3 Total Cache.
Hyper Cache.
Swift Performance etc.
But if you check the comparison table from below, you will know the difference.
Still, WP Rocket is the best!
Conclusion
You must need a caching plugin for your WordPress blog. This is not optional anymore. Instead of trying free WordPress caching plugins, try WP Rocket. You will love it.
If you have money to invest in the plugins, you must consider purchasing a license of the WP Rocket plugin as we did. You can see an average of 47% speed increase!
Get Started With WP Rocket
You can see the pricing and purchase WP Rocket plugin from below.
We hope you found this WP Rocket review helpful and enjoyed the read. If you did, please consider sharing this post with your friends and fellow bloggers on social media. They will love this review!
BTW, are you using WP Rocket? Let us what do you think about the plugin in the comments below!
If you are looking for a deals plugin for WordPress, we recommend you using WP Coupons. Check out our WP Coupons WordPress plugin review for more!
WP Rocket
Product Name: WP Rocket WordPress Plugin
Product Description: Looking for the WordPress caching plugin? WP Rocket is one of the best and premium WordPress caching plugin. In this post, you will know the complete features of it!
Offer price: 40.83
Currency: USD
Availability: InStock
Features

Performance

Support

Ease of Use

Pricing
Summary
Are you looking for the WP Rocket review? A few folks got asked for it! In this post, we are going to show you the complete review of the WP Rocket WordPress plugin! I am pretty sure that you can learn more features of the plugin from here!
Pros
Affordable
Multiple Features
Great Support
Well-Coded