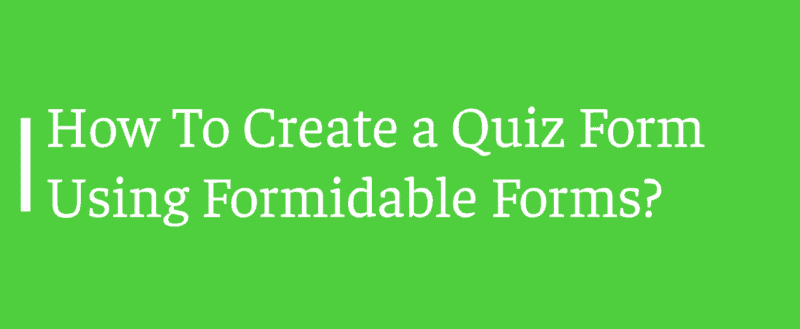 There are so many websites that are using quizzes for generating leads and generating stable traffic to the site. It's proven that quiz forms are the easiest and proven way for generating a ton of traffic from search engines. Plus, there are so many websites that are using this strategy to increase their website traffic.
If you would like to create a quiz form in your WordPress blog, we have got something for you. In this post, we are going to show you how you can create a quiz form using Formidable Forms WordPress plugin!
Formidable Forms
If you are looking for a powerful, easy to use WordPress form builder plugin, you will need to check out Formidable Forms. Formidable Forms is one of the famous and widely-used form builder plugin created by Strategy11. Thankfully, it is a freemium WordPress plugin. A free version (Formidable Forms Lite) is available on the WordPress plugins repository.
More than 300,000 WordPress blogs are using the free version plugin for creating forms inside the website. The developer team is releasing frequent updates too. For a sample contact form and something related to primary, the free version plugin is good enough.
But, if you would need more robust features, the premium version is preferred.
And for creating a quiz form, the premium version is essential. Right now, the free version plugin won't support anything like that.
Pricing
Formidable Forms got three premium pricing options.
Basic – $99.38/ yr.
Business – $199.43/ yr.
Elite – $399.53/ yr.
For the Quiz Maker add-on, you will need to purchase the business plan. Or the Elite plan. Thankfully, they do offer 14 days money-back guarantee for all clients. So if you are not satisfied with the purchase, you can quickly get a full refund.
With your PayPal account or Credit Card, you will be able to purchase the premium version of Formidable Forms.
How To Create a Quiz Form Using Formidable Forms?
Just like we mentioned above, you will need to purchase the Business/ Elite plan. After that, log in to your Formidable Forms account for downloading the premium plugin files. And after that, you will need to install the plugin on your WordPress blog.
In your Formidable Forms account, you can also see a license key which will help you to get updates and support for the plugin.
Once you have verified your Formidable Forms license key, you will also get full access to their add-ons. So for creating the quiz forms, an add-on called Quiz Maker is essential.
So, install and activate that add-on on your blog. Now, you are good to go. You can create a new quiz form or edit any of the existing forms and add quiz fields in it.
In our case, we will be adding a new form.
On the next page, you will see the Formidable Forms builder. This is where you can build forms and integrate them with third-party services.
As you can see in the above image, there are two sections. The left side comes with all the available fields you can use on your form. And on the right side, you will be able to see the live preview of the form.
While you are building a multi-choice form, the dropdown field is recommended. Add every field you need. If you are planning to build an email list, the Name, email fields are mandatory.
The very next thing you need to do is, add a Quiz Score field. You might want to add form entry with correct answers. Plus, you can also decide whether you need to show the final score or hide it from the website visitors.
If you want to show the score, you might want to add the Quiz Score specific shortcode to the success message field. Make sure that you have modified the success message accordingly.
Finally, we can publish our WordPress form.
The Formidable Forms WordPress plugin is 100% optimized for the Gutenberg editor. So, if you are using the Gutenberg editor, you will be able to use the Formidable Forms block for embedding your form on a page/ post or custom post type.
On the other hand, If you are using the classic editor, pasting the form's shortcode would be good. After doing it, publish/ update the page. And if you check the page from the frontend, you could see the live-action.
Get Started With Formidable Forms
You can get the premium version of Formidable Forms from below.
Get Started With Formidable Forms
So this is how you can create a quiz form using Formidable Forms. We hope you have found this article helpful and enjoyed the read. If you did, please consider sharing this article with your friends and fellow bloggers on social media.
It will probably help someone using Formidable Forms for enhancing the features of their WordPress blog.