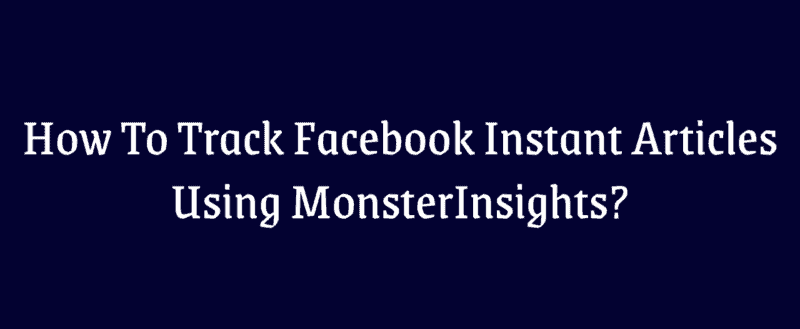 Are you using the Facebook instant article for better user experience and speed? If you are, you probably want to check how the visitors are getting engaged with your content. Anyway, tracking it won't be a hard task these days.
We have got a robust and straightforward solution for you.
In this article, we are going to show you how you can track Facebook instant articles using MonsterInsights WordPress plugin!
MonsterInsights
For adding Google Analytics to a WordPress blog, there are several methods. Instead of adding it manually by pasting the tracking code to your website's header, you could go with a WordPress plugin, which is developed for the same purpose.
In our experience, MonsterInsights is one of the popular and best Google Analytics plugin for WordPress. The Awesome Motive team created this plugin. They are the developers of powerful plugins like WPForms, OptinMonster, SeedProd, etc.
And MonsterInsights is a freemium WordPress plugin. There's a free version plugin available on the WordPress plugins repository. It is called MonsterInsights Lite.
Just for basic tracking, the free version plugin is good enough. And for integrating Facebook instant articles, you might want to purchase the premium version. Now, let's see how much would be the cost of MonsterInsights premium licenses.
Pricing
MonsterInsights got three premium pricing options.
Plus – $99.50/yr.
Pro – $199.50/yr.
Agency – $399.50/yr.
The Plus plan comes with all basic tracking features a typical WordPress blog needs. Also, it comes with a single license. Pro and Agency plan will have more features and licenses.
If you are a beginner, you could start with the Plus plan. Later, upgrading is possible.
How To Track Facebook Instant Articles using MonsterInsights?
By using the Instant Articles for WP plugin, you will need to configure Instant Articles on your WordPress site. Now, let's move forward with the tracing stuff.
The very first thing you need to do is, install and activate the MonsterInsights premium version on your site. Once you have got purchased any premium plan, you would be able to log in to your MonsterInsights account and download the premium plugin files.
From the same account dashboard, you could see the licensing options. Once you have downloaded the premium plugin files, log in to your WordPress blog, install the plugin. After installing it, activate.
Go to the MonsterInsights settings and verify your purchase with a valid license key. After doing that, you are free to use all their available add-ons. You will also get priority support and updates from the developer team for the plugin.
After that, go to the add-ons section. There, you could see the Facebook Instant Articles add-on.
Once you have installed the add-on, it will get automatically activated. If it hasn't, you can activate the add-on manually.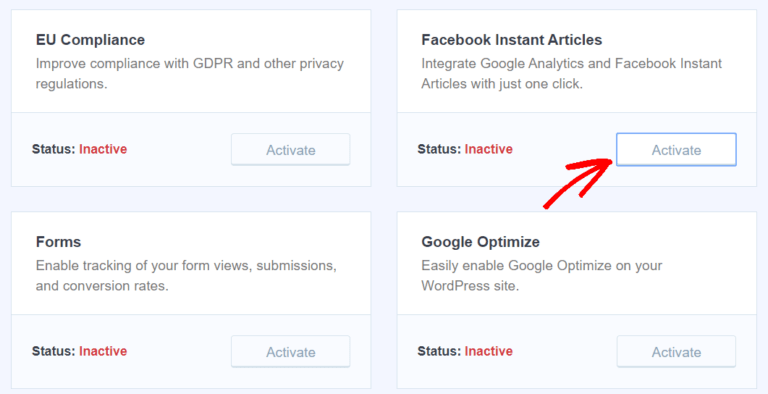 Now, you need to go to your Facebook instant articles plugin settings. There, you could see an option for enabling the MonsterInsights integration with Instant Articles.
Enable it and save the settings.
Now, you are done!
From your Google Analytics account, you will be able to track your Facebook instant articles more accurately!
Checking The Report
You might already be receiving a good amount of traffic from Facebook through social shares. The thing is, both Facebook traffic and Instant Articles traffic are shown together in the Google Analytics reports section. For viewing those, you need to log in to your Google Analytics property, go to the Acquisition > All Traffic > Channels.
There, you will find the social tab.
Click on the social tab, and it will show you a detailed report of social traffic you got on your website.
Select the Facebook tab. Now, choose the secondary dimension and select page.
You are done!
This is how you can track Facebook instant articles on your WordPress blog using the MonsterInsights WordPress plugin. MonsterInsights is an excellent plugin for enabling tracking and doing more on your WordPress website.
Get Started With MonsterInsights
You can get the premium version of MonsterInsights WordPress plugin from below.
Get Started With MonsterInsights
We hope you have found how to track Facebook instant articles using MonsterInsights through this article. If you did, please consider sharing this post with your friends and fellow bloggers on social media. For more related articles, you can always check out our blog.