When we simply created our deals section, one of our users got asked how we did it. It's done using the WP Coupons plugin and in this post, we are going to show you the WP Coupons review for you!
Most of us are starting a blog to make money online. There are 2 methods are currently available for making money online. The first one is using display ads like Media.net, Google AdSense and the seconds one is using affiliate marketing.
In our experience, affiliate marketing is the best way to make a huge amount of money from your blog! Well, gaining affiliate sales might be pretty hard. Especially for beginners. But, there's a simple method available for increasing sales!
By using discount coupons and deals!
When you use WordPress and needs to add a dedicated coupon section, you could use the plugin called WP Coupons! And this WP Coupons review will show you more about the plugin.
Why You Need a Coupon Section?
When you are running an affiliate website, you might want to consider adding a coupon and deals section to your WordPress blog. Possibly it will help you to increase affiliate sales.
Thankfully, most affiliate websites are giving us limited time offers to promote. As an affiliate marketer, we need to use the coupon properly. make more affiliate money. There are so many folks are looking for coupons and deals.
For example, let's take Social Warfare. Social Warfare is one of the best and freemium social sharing plugin for WordPress. Google's auto-suggestion feature shows that there are so many folks are looking for the Social Warfare coupon!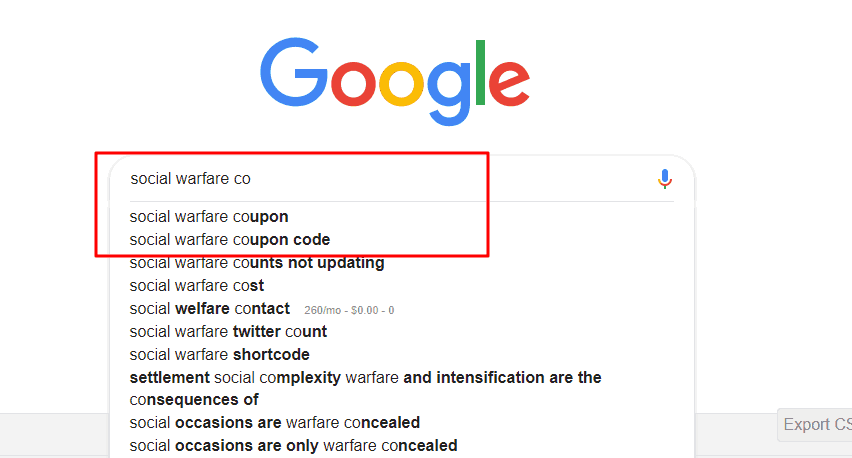 So if you create a coupon section inside your blog with some trending discount codes, probably you can increase your affiliate sales!
What Is WP Coupons Plugin?
WP Coupons is a WordPress plugin which will help us to create a custom post type which will show the latest coupons on our site. The plugin is compatible with the WordPress 5.0, Gutenberg and works like a charm!
The plugin is created by Brian Jackson and his brother, for helping affiliate marketers to get maximum sales from the affiliate website.
We have personally used this plugin on our several projects and we have increased the conversion rate by 60%! Just by promoting the existing coupons and discount codes!
WP Coupons a Free Plugin?
Sadly, no!
WP Coupons is a complete premium plugin. At this time of writing, they don't have any free version plugin available. I personally had a conversation with them and they are not planning to bring a free version in the near future.
Well, the premium plugin is affordable for all bloggers and it comes with a money back guarantee! If you are not happy with the WordPress plugin, you could get a complete refund! So, your money is safe.
WP Coupons Review
At this time of writing, there are so many WordPress plugins are available for creating a deals section inside WordPress. Let's see is WP Coupons is the right one for you through this WP Coupons plugin review.
Installation and Activation
Installing the plugin is pretty simple. You can do it from your WordPress admin section or by using an FTP client such as FileZilla. In our case, we are going to upload the plugin through the WordPress admin section. This is a simple way.
Go to add new plugins and install the plugin from there. You need to upload the ZIP archive file on the page.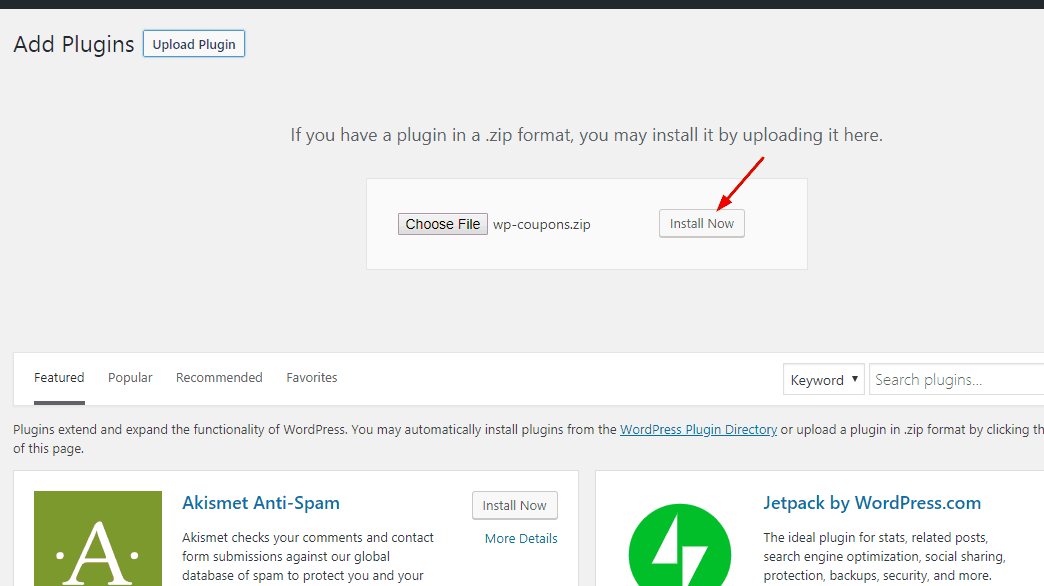 After installing the plugin, activate it.
Once you activated the plugin, you can see a new post type called coupons there. This is where you can create/ edit or delete WordPress coupons.
Looking for the plugin settings? Under the WordPress settings page, you can see it.
WP Coupons Features
Now, let's see the complete features of WP Coupons.
Speed Optimized
Speed is one of the main things we consider while blogging or handling a website. Normally, using a CDN, a caching plugin like WP Rocket will help us to make our website faster enough.
But using bulky plugins and themes will make our website even slower. In this case, the WP Coupons plugin is optimized for speed. You could use the Pingdom tool or GTmetrix tool for testing the website's speed before and after using the plugin.
SEO Optimized
Due to the lightweight and optimized code, you could rank your coupons higher in search results. That's all we need. So, ranking coupons higher will give you so many clicks from the search engines, sales, and commissions. It's simple as that.
Display Options
From this section, you can configure almost all plugin settings. The WP Coupons team will give us 2 custom templates in their file. One is for the archive page and the other is for single coupons page. We will be able to use it on our deals section.
On the other hand, we can use the normal templates.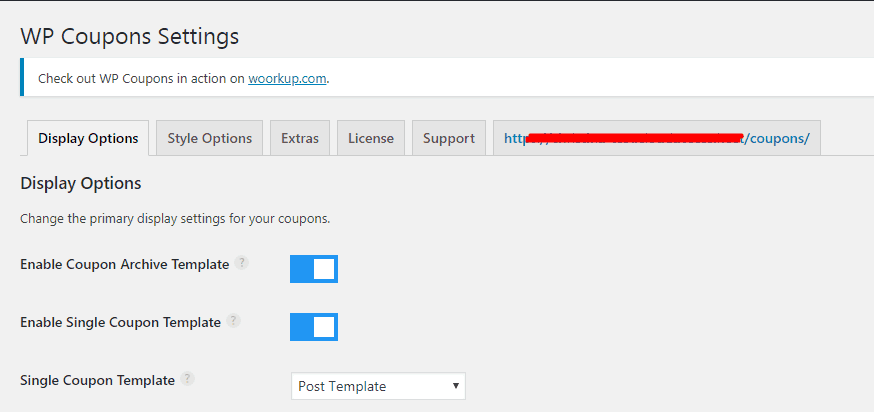 Then, configure the archive URL and the nav elements. The default archive URL is /coupons/. But that's 100% customizable. You can change it to anything you would like!
From the bottom screen, you can configure related coupons entry, padding, and everything. Once you have done configuring, don't forget to save the changes.
Styling Options
Thankfully for styling your coupons archive, single page, you don't need to add additional CSS through the customizer or use a dedicated plugin like CSS Hero. You will be able to change the color and font settings from the plugin settings.
The changes will reflect in the front end almost instantly. If you haven't seen a change, it might be an issue with the cache. You could try clearing your browser cache or clearing your WordPress cache.
Advanced Settings
Well, there are some advanced settings are available which will help you to make your coupon section unique.
From there, you can
Force Direct Links.
Configure Link Target.
Enable Copy To Clipboard.
Exclude Coupons From Search.
Add a Custom Coupon Class.
Add Custom CSS.
Add Before and After Content.
and much more…
Licensing
For receiving automatic updates, you may want to consider activating the plugin with a valid license key.
You can get the license of the product from your WP Coupons account. Once you have done that, whenever the admin releases a new version of the plugin, you will be able to update it from your WordPress dashboard. In a single click!
With the normal configuration, your single coupon page would look like:
Cool isn't it? The coupon goes in the right side of the page and the added content will be on the left side. If you really want to rank your coupon posts, we recommend you adding detailed content. Something like what's the product, how to use the coupon.
For example, you could check out our WPForms coupon or WP Rocket coupon. We have explained it well.
Custom Categories
We will add different coupons to our blog. Thankfully, we can categorize them!
You can create any number of categories you want. There are no limitations. So, add the coupon to the specific category.
WP Coupons Pricing
The pricing of WP Coupons is simple and affordable. Every beginners and professional can afford it. At this time of writing, they do have 3 premium plans.
Personal – $34.95 a year – 1 Website.
Business – $84.95 a year – 3 Websites.
Unlimited – $174.95 a year – Unlimited Websites.
If you just have one website which needs a coupon section inside it, I would recommend you the personal plan. It will work best for you.
When you represent an agency which develops WordPress websites for clients, you may want to consider purchasing the unlimited plan. On top of that, the renewal price will be the same! For receiving support and plugin updates, you might want to consider renewing your license.
Support and Documentation
The team supports the plugin via raising tickets. You may have questions to ask. It can be a
Pre-sale question.
Technical Issue.
Feature Request.
Bug Report.
All you need to do is, simply raise a ticket and let them know. Probably they will get back to you within 24 business hours!
Talking about documentation? They have a wide range of tutorials!
They are categorized as
Installation.
Pre-Sales Question.
Troubleshooting.
General.
Updates.
You can find almost all the tutorials from there! If you still need something special, you could contact their support and let them know. They will be happy to assist you, will add the topic to the knowledge base section if it is essential.
Updates
Every license keys that you purchase from WP Coupons comes with 1-year of updates. You can update the plugin right away from your WordPress dashboard. All you need to do is, activate your license with a valid license key.
Whenever the author team releases an update, you will get the notification in your WordPress updates page. For receiving an additional one year of updates, you might want to consider renewing your license.
Compatibility
We all are not using the same theme on our blog or business websites. In our case, we are using a custom child theme which is made on top of the Genesis Framework by StudioPress. And you can see that the deals section is performing well with our theme.
Saying that the WP Coupons plugin is compatible with almost all plugins and themes. You could use it with the GeneratePress theme, Generate Pro or whatever you want. You will not get any issues.
Conclusion
We highly recommend WP Coupons plugin for our users. If you are running an affiliate website, you must consider purchasing the WP Coupons plugin and testing it on your blog. I am pretty sure that you will love it!
Get Started With WP Coupons
You can purchase the plugin risk-free from below.
Why We Shared This WP Coupons Plugin Review?
We are not getting paid for writing false positive reviews. In our experience with the WP Coupons, we have found that this plugin would be helpful for all our users and it will increase the affiliate sales.
So, we have added this WP Coupons plugin review.
We hope you found this WP Coupons review helpful and enjoyed the read. If you did, please consider sharing this post with your friends and fellow bloggers on social media. For more related posts, feel free to check out our blog section!
WP Coupons
Product Name: WP Coupons Plugin
Product Description: WP Coupons is one of the best WordPress plugins for creating a coupon section inside a WordPress blog. The pricing is affordable and everyone can get a premium license!
Offer price: 34.95
Currency: USD
Availability: InStock
Features

Performance

Support

Ease of Use

Pricing
Summary
WP Coupons is the best WordPress coupon plugin. In this review, we are going to show you the complete review of WP Coupons plugin! Check this out before buying the item!
Pros
Speed Optimized.
Awesome Features.
Great Support.