Umm… You may be looking for the best form builder plugin for WordPress. You are in the right place, my friend! Right now, there are so many WordPress form builder plugins are available. Some of them are free and some of them are premium.
Last day, one of our users got asked about the WPForms plugin. and as a result, we are gonna share the complete WPForms review in this post!
A Good Contact Form Builder Must Be…
When you decide to choose a form builder plugin for your blog, keep these in your mind. The form builder plugin must be:
Drag and Drop – Easily create forms without writing a single line of code.
Feature Rich – Take your forms to the next level.
Supportive – The author team must support the builder users.
Integrations – The forms must be integrated with third-party apps.
Affordable – Beginners can't spend huge money on form builder plugins!
On top of that, hear what others are saying – the user reviews. If the review is bad, we will not recommend you using the product on your blog. Well, let's find out how and why we recommend WPForms plugin through this WPForms review.
WPForms Review: What's Best and Bad?
If you are using WordPress or learning to blog for a while, you have heard about WPForms. It is one of the best beginner friendly and drag and drop form builder plugin for WordPress. If you check the free version plugin called WPForms Lite, you could see that there are 1 million websites are using it!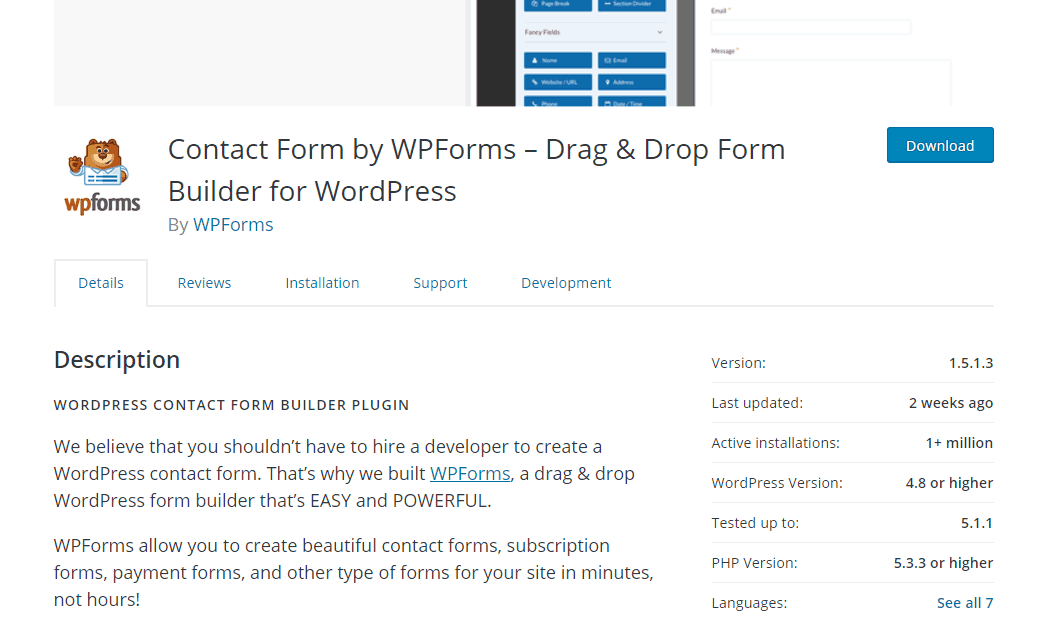 and a total of 4.9-star rating out of 5!
Why these much folks are rating WPForms as a good form builder plugin. You may be wondering. Probably the features! There are so many advanced features are available in this plugin which a website admin needs.
However, from this WPForms review, you will know more about it!
WPForms Is Best For…
Personal Blogs – to create simple contact forms and newsletter sign up forms.
Business Websites – get in touch with your customers.
Non-Profit Organizations – accepting donations made easy!
Online Shops – for ordering products.
SAAS Websites – contact forms or support forms.
Consultants – get a personal quote.
and much more…
WPForms Lite or WPForms Pro?
If you are running a small personal blog or a content website, you just need the WPForms Lite plugin. It's best for creating a simple contact form. For example, check out our contact us page.
When you are running a business website or an eCommerce website which is making good sales, you might want to consider using the premium version plugin. It will help you to add some advanced features to the form. There are something like email marketing add-ons and related powerful features.
Features
This makes WPForms the perfect form builder plugin.
Drag and Drop Form Builder
No coding. The drag and drop form builder will help you to create stunning forms in your website without writing a single line of code! The builder is beginner friendly. Anyone and everyone can create forms using the form builder.
Form Templates
Creating forms from scratch will take some time right? Yes. In that case, WPForms offers form templates where you will get pre-made set of templates.
By inserting these pre-made templates to the form builder, you can simply create it!
File Uploads
If you are running a troubleshooting or related service, your customers may want to send you some screenshots. Normally, they will take the screenshot, upload it to any cloud storage, get the sharable link and pass it through the contact form.
Well, no more additional steps.
WPForms allows file uploads! By enabling this feature, you can allow your users to upload files directly through your forms. Due to security, some file types are restricted and they also restrict the max file upload size.
User Registrations
If you are allowing registrations or running a membership website, you might want to consider creating a registration form for your business. With the WPForms user registrations add-on, you can do this.
It's pretty simple!
Payment Integration
There are 2 payment gateway integrations are available.
When creating donation forms and order forms, these payment integrations are essential. These days, most of us are using PayPal for managing payments. If your customer prefers a credit card, the payment goes through Stripe.
Email Marketing Add-ons
Generating leads is no more optional. You can create simple newsletter forms using the WPForms and integrate it with your favorite email marketing provider. There are so many email marketing integrations are available. Some of the best ones are:
MailChimp.
Constant Contact.
AWeber.
Convert Kit.
Drip.
Campaign Monitor.
GetResponse.
and much more…! Also, you can integrate these email marketing programs with your simple contact forms! So whenever a folk gets in touch with you, you can save his email address to your email list!
Custom Captcha
These days, some people are using contact forms only for spamming. They create custom software/ bots which will fill a website's contact form automatically. The aim is one thing – promotion. As a blogger, I will get too many emails in my spam folder.
But, WPForms got a solution. By using the captcha feature, you can reduce the number of spam emails sent through your contact form. Most bots can't verify the captcha and they will leave the website. This is an awesome feature from WPForms guys.
Zapier Addon
The Zapier app will help you to integrate 600+ awesome apps with your forms. Payment gateways, email marketing gateways, blogging tools, CMSs, lead generation tools, and almost everything!
Post Submission
In case if you don't want to enable registrations and still need to accept guest posts on your blog, this post submission add-on will help you! Once a guy submitted a post from the front end, WPForms will automatically save the post and mark as pending.
After verifying it, you can publish the post. You will get complete control of your blog post. You can change the category, post title, contents, add more text, image, etc…
Form Locker
The form locker add-on will help you to password protect forms, close forms after specific time or date, limit the number of submissions, one entry per person, restrict members.
From the form builder interface, you can enable this option.
Conversational Forms
Huge fan of Typeform? Type form is a form builder which is used to create conversational forms. and guess what… WPForms recently released an add-on for this!
From now on, using WPForms, you can create conversational forms.
Documentation
They have a wide range of tutorials which will help you to take your form building experience to the next level.
Right now, they have categorized their docs section like:
Getting Started.
Functionality.
Styling.
Extending.
Addon.
Account Management.
You can get almost everything from there. Unable to find any docs? The team is already there to help you! By contacting them, you can get your issue fixed!
Support
If you are using the free version of WPForms, you can get support from the WordPress support forum. All you need to do is, simply create a support topic and the team will get back to you with a solution.
For pre-sales and technical questions, contact them via the support page.
For raising a technical issue, you might want to log in to your WPForms account. The team will get back to you within 24 business hours.
Pricing of WPForms
The premium version of WPForms is affordable. Let's have a quick look at their pricing page.
NOTE: Right now, they are running a limited time deal which will give you 50% off on all premium plans! If you want the plugin, this is the right time to act.
They have 4 premium plans.
Basic – $39.50 a year – 1 Website Usage.
Plus – $99.50 a year – 3 Website Usage.
Pro – $199.50 a year – 20 Websites Usage.
Elite – $299.50 a year – Unlimited Website Usage.
If you have just only 1 website, the basic plan is good enough for you! Pick a plan according to your usage.
Money Back Guarantee
The team offers 30-days money back guarantee. So if you are not happy with the purchase, you will get a full refund from the team! No questions asked! So, WPForms is safe to try. I am pretty sure that you won't go for the money back thing. You will love it.
Our Review
From above, you noted that WPForms got almost all features a form builder plugin needs. They are affordable, supportive and adding new features in every plugin updates.
We highly recommend WPForms plugin to our users! In that case, we will give 5 stars out of 5 for the plugin.
Get Started With WPForms
You can purchase the WPForms plugin from below.
WPForms Alternatives
Still, want to check another form builder? Some of the best form builder plugins are:
We hope you found this WPForms review helpful and enjoyed the read. If you did, please consider sharing this post with your friends and fellow bloggers on social media. If you want to generate leads from your website, check out OptinMonster – the best lead generation software for businesses!
WPForms
Features

Performance

Support

Ease of Use

Pricing
Summary
WPForms is one of the best WordPress plugins for creating contact forms inside a WordPress blog. Thankfully, WPForms is a drag and drop form builder plugin and it is a freemium one! In this post, we are going to show you the complete WPForms review.
Pros
Affordable
Drag and Drop
Great Support
Unlimited Features