Planning to start your first website or blog. If you are here for a while, you know that it can't be done without a domain name and web hosting. There are so many web hosting companies are out there like Bluehost, SiteGround, GreenGeeks for hosting your blog. But when you start your blog for the first time, you probably think that this is quite expensive.
If you are looking for a cheap web hosting in India, we are going to share one for you. From this post, you can read the complete Xozz review. Xozz is one of the well-known web hosting companies in India.
Xozz Review
Right now, there are some guys offering premium web hosting for an affordable price. Something like $2 a year and you will get unlimited resources. We will not recommend any of them. They are reseller hosting. They won't give proper uptime, security, and support.
We recommend only quality hosting companies. Let's check out how this Xozz India review will help you. We will cover almost everything in this review.
Xozz Free Hosting?
Sadly, no. They do not offer free web hosting for the clients right now. But, all their hosting plans are cheap and affordable for all of us. On top of that, they do offer a 30-days money-back guarantee for the hosting plans. If you are not happy with their hosting, you could get your money back!
Refunds are processed according to their refund policy and privacy policy.
Xozz Hosting Features
Now, let's see what are they offering through their hosting plans.
Unlimited Disk Space
When you handle a small business website, you just need 2 GB or 5 GB storage space. But, most of us are planning to create food blogs, magazine blogs known as a content website.
The thing is, when we add images to WordPress, it will get cropped to different sizes according to your theme settings. It will consume a lot of storage space. For example, one of our sister websites is having a size of more than 11 GB! It's still growing.
Thankfully, Xozz is not limiting the storage space. You can add as much as images, files to your WordPress blog. Also, you may want to consider a backup solution for keeping your website data safe.
Unlimited Bandwidth
When you start your blog for the first time and the beginning of the time, you will not get much traffic. So, 5 GB bandwidth is good enough. If you are uploading too many videos and images, it will eat all your allowed bandwidth.
One thing we do for saving bandwidth is, using a CDN. When you got used all of your allowed bandwidth, your website will show some error on the front page.
Well, some CDNs are premium without any free option. If you are not prepared for purchasing a CDN yet, you just need to use the allowed bandwidth by your web hosting provider.
Here, Xozz will not limit your bandwidth usage. You will get unmetered bandwidth.
Unlimited Email Addresses
Running a business website? Then you probably need business email addresses. There are services available like Zoho and G Suite for creating business email addresses. Those are premium services. Looking for a free one?
You could do it from your cPanel. Some web hosting will allow only a limited number of business email addresses. In this case, Xozz will help you to create unlimited webmail accounts.
You have complete control of it. The storage space is unmetered. Accessing the webmail account is also simple. You can do it in a single click from your cPanel.
Unlimited Databases
Planning to host a web application? Then you probably want to create 2 or more databases. Without paying additional money, you could create unlimited databases. The process is pretty simple. From the cPanel, you can do it.
For keeping the databases safely, we recommend you create complete website backups.
Optimized For Speed
Most of us prefer a faster loading website. Especially if you are running a business website or an eCommerce website that makes sales in every minute. A 2-second delay in the website loading time will affect your entire business.
There are few tools are out there which will test the speed of the website. The famous ones are Pingdom, Google Page Speed Insights and GTmetrix. GTmetrix is our favorite tool for speed testing.
We have hosted a website on Xozz and tested the speed of it using the GTmetrix tool. The result is below.
You could see that the page got loaded under 3 seconds. You will think that's not good. The thing is, we have not optimized the website with a CDN, a caching plugin and htaccess tricks.
After optimizing it, the page speed will become less than 1 second.
Uptime Guaranteed
Website uptime is a crucial thing we need to consider while choosing a web hosting provider. Thankfully, there are so many tools are available out there which will measure the website uptime – UptimeRobot.
We have tested the uptime of a website hosted in Xozz. and it got scored 99.3%!
Pretty impressive.
Xozz Indian Hosting Types
Here, we are going to share what are the hosting types offered by Xozz India.
Shared Hosting
Price starts at 499INR a year to 2250INR a year. When you start your first website or blog, shared hosting is what you want.
Windows Hosting
The starting price is 810INR. The developer plan costs 3150INR.
Reseller Hosting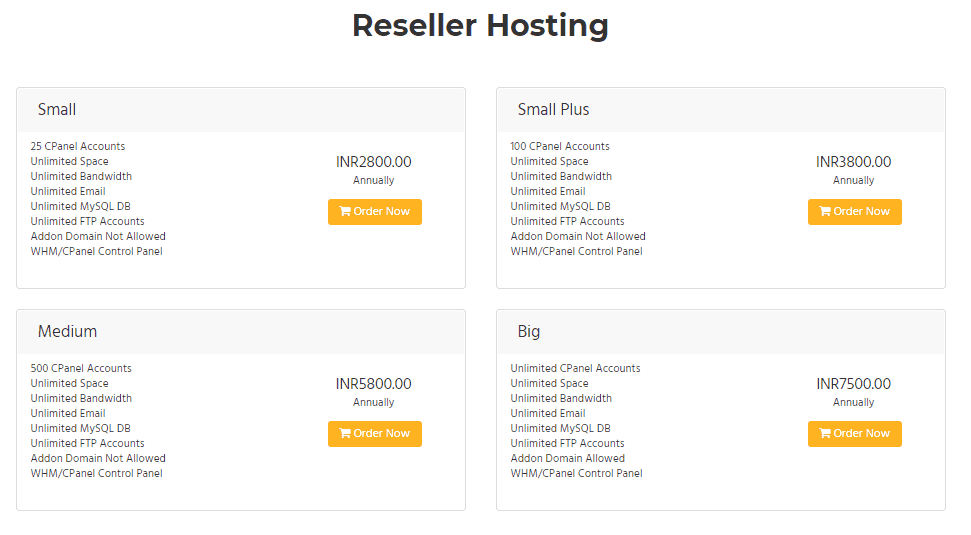 When you want to start your own web hosting company, you need to use a reseller hosting plan. By using this plan, you could start your own hosting company and provide hosting for your clients.
Cloud Hosting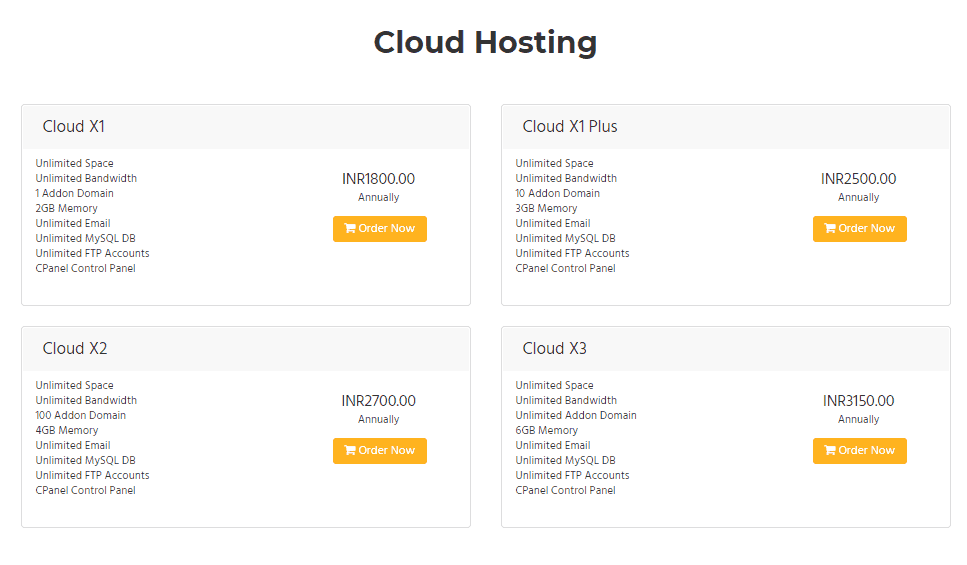 Need something more powerful than shared hosting? The cloud hosting is the right choice for you!
Managed WordPress Hosting
Need a web hosting plan which is optimized for WordPress? The Xozz WordPress hosting is cheaper than you think and the competitors!
VPS Hosting
Looking for a private server? Xozz India got it for you.
Dedicated Server
When your website starts getting a ton of traffic, probably you need to upgrade your hosting plan to a dedicated server. Check out the Xozz India dedicated server plans.
Backup Solutions
For keeping your data secure, you may want to consider using a backup solution. In our WordPress blog, we are using a plugin called BackupBuddy developed by iThemes. It will create a complete website backup and send it to an offsite location.
Well, the Xozz India got a solution for backups. According to your website storage and domains, you could choose a plan.
and much more… You could see all of them on the Xozz features page.
Payment Methods
Some folks don't have a PayPal or Payoneer account for making payment. Well, for purchasing hosting from Xozz, you don't want a PayPal account. You can do it using your ATM card.
This can be done using a credit card or debit card. All the payment requests are processes through Instamojo or CCAvenue. Those are the famous, secured payment gateways in India.
Free Domain Offer
Normally, a domain name will costs $12 a year from domain registrars like Bluehost, Namecheap, etc. Would you like to get it for free?
When you purchase the Xozz hosting for 3 years, you will get a free .com domain! This domain can be attached to your web hosting plan.

The free domain registration is for the first year. In the next year, you may want to renew it for using the domain. Renewal fees are normal. This is a great deal for all beginners.
Wondering how?
A .com domain will cost 1000INR for a year. Here, Xozz shared hosting is available for 500INR a year. So 3 years of hosting charge will become 1500INR.
Like I said above, you will get a free .com domain with every 3 years web hosting purchase. Hence, 1500-1000 = 500!
You are just paying 500INR for 3-years of web hosting!
Xozz Coupon
If you are planning to purchase something online, probably you will look for an active coupon code. While talking about coupons and promo codes, we have got you covered. We'll share all working, active coupon codes in our deals section. The latest ones are WPForms coupon and WP Rocket coupon.
In this case, you could try using WPReviewStudio40 for a charming 40% discount. You will get the discount at the time of checkout. This is a limited time coupon. You may want to get it as soon as possible.
Get Started With Xozz
You can see the updated plans and pricing of Xozz India from below.
Conclusion
You know that there are so many web hosting providers are available ut there. Some of them are expensive and some of them are local. Again, we will not recommend purchasing hosting from a local web hosting company. You could try Xozz hosting for starting your blog or business website.
We hope you found this Xozz review helpful and enjoyed the read. If you did, please consider sharing this post with your friends and fellow bloggers on social media. It'll help them to choose the cheap web hosting company for the blog!
Xozz Review
Features

Performance

Support

Ease of Use

Pricing
Summary
Xozz India is one of the cheapest web hosting companies in India. There are so many folks are using their web hosting for starting a business website. In this post, we are going to share the complete Xozz review for you.