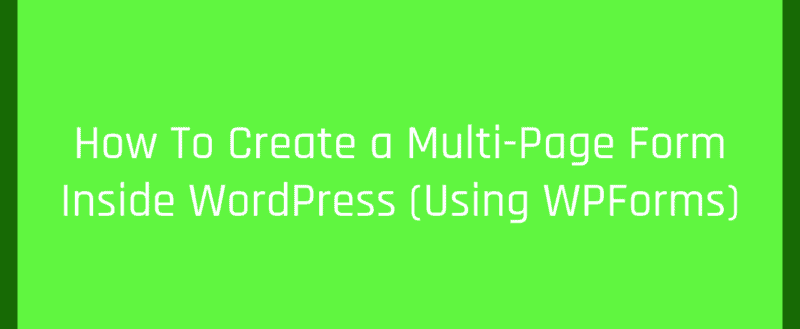 Do you want to create a multi-page form inside your WordPress blog?
If you are having a big form, you might want to consider splitting it into different pages. Once you have done that, you can simply improve the user experience. Thankfully, for creating a multi-page form inside WordPress, we do not need to use HTML and CSS for styling. A form builder will help you with this.
And for this tutorial, we are going to use the popular WordPress form builder plugin WPForms.
WPForms
There are so many WordPress form builder plugins are in the market. If you ask me which is my favorite one, I got only one answer – WPForms. WPForms is a freemium WordPress form builder plugin created by the Awesome Motive team. The WPForms lite version is available in the WordPress plugins repository.
And if you check it, you could see that more than 3 million WordPress sites are already using this plugin on their sites. WPForms comes with a drag and drop form building experience. So, creating forms will be too easy for everyone.
They have a premium version plugin with more features and integrations. Some of their popular features are
Form Templates.
Conditional Logic.
File Upload.
Spam Protection.
User Registration.
PayPal Forms.
Stripe Forms.
Zapier Integration.
Etc.
You can read our WPForms review for more.
WPForms Pricing
If you need to create a multi-page form inside your blog, you need to be on their premium version. And as of today, there are four premium plans available.
Basic – $39.50/ year.
Plus – $99.50/ year.
Pro – $199.50/ year.
Elite – $299.50/year.
If you just need the multi-page forms feature, get their basic plan. Well, if you are looking for more features and integrations, you might want to get higher level plans.
How To Create a Multi-Page Form Inside WordPress?
Now, let's see how can we make a multi-page form inside our WordPress site.
The very first thing you need to do is, purchase the premium version of WPForms. Once you have done that, log in to your WPForms account, download the premium plugins' files.
After that, install and activate the plugin on your site. You will need to verify the license key also. Then, you will start getting plugin updates, support from the official author, and access to their premium add-ons.
Just like normal, create a form using the WPForms plugin. There are several pre-made form templates available. You can choose any of them or use a blank template.
Here, in our case, we are going to choose the contact form template.
In the form builder, a sample contact form template will be opened.
On the left side, you could see all the available fields that you can use in your form. The right side will show you the preview of the form. Just like the WordPress customizer. Add the fields you need to. Well, if you are going to create an email newsletter form/ payment form or order form, add the appropriate fields.
On top of that, while creating payment forms, integrate it with the payment gateway.
Now comes the real customization. After adding the fields to your form, add the page break field to it.
So the page break will split the form. You can add it anywhere you want. When you do this, make sure that you are not adding so many page breaks. More page breaks are not good for user experience.
Let's move to the next step.
Showing the user a progress bar is a great idea. WPFrms got three types of progress bar options.
Connecters.
Circle.
Progress Bar.
Customizing the progress bar is pretty simple. All you need to do is, go to the First Page break section, click on it.
In the left section, you can see the settings then.
Set up the indicator and title from there. After configuring these settings, you are good to go.
Save the form. It will give you a unique shortcode. Plus, if you are using the WordPress Gutenberg editor, WPForms is 100% optimized for WordPress 5.0. With the WPForms block, you can embed any forms you have.
You can see the preview of your form there.
Publish/ update the page and it will be live.
So that's it! This is how you can create a multi-page form inside WordPress using the WPForms WordPress plugin.
Get Started With WPForms
You can get the premium version of WPForms from below.
We hope you have found this article helpful and enjoyed the read. If you did, please consider sharing this article with your friends and fellow bloggers on social media. If you are looking for more WordPress tutorials, check out our blog.