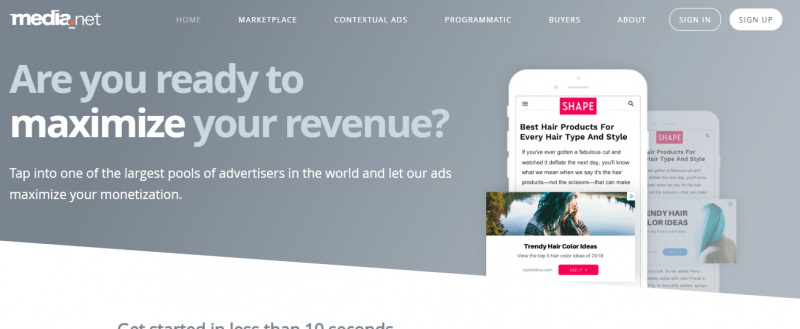 You need to make money online right? That's why you got to start a blog. There are mainly two methods are available for making money online. The first one is affiliate marketing and the second one is display ads. Affiliate marketing is the monetization method we using on blogs.
But the thing is, you need to make sales/ leads to make money from the network. Well, display ads don't need anything like that. You will get paid for each impression you deliver also clicks. Google AdSense is popular, largest display ads network out there.
These days, we have got some emails saying their Google AdSense account got banned and looking for another network. In this review, you will meet someone. The Media.net.
If you are planning to apply for Media.net, read this Media.net review. In this review, we will share everything about the network we know.
Media.net Review: What's Good and Bad?
Media.net Requirements
Before applying for Media.net publisher account, keep these things in your mind.
Premium Traffic.
USA, UK, CA Website Visitors.
Website Design.
Currently Active Website Visitors.
Website Content.
and related things. If you are running a large blog with lots of USA, UK, and CA traffic possibly they will approve your application. They won't approve small blogs with low traffic (Indian traffic). Also, they will not approve websites which are promoting adult contents, weapons, and violent contents.
Your website must keep a professional design. If it is a WordPress blog, we recommend you StudioPress themes. Remove all pop-ups and existing display ads. They have no issues with affiliate links.
Apply For Media.net
Applying is pretty simple than Google AdSense. First of all, go to Media.net. You will be redirected to a dedicated sign up page for the WPReviewStudio users.
NOTE: If you apply through our link, you will get 10% extra revenue for 3 months. For example, let's say that you have made $300 in the first month (Yes! It is possible). At the end of the month, you will get $330! Like this, you will get a bonus for the next 3 months!
You need to enter your website URL, email address there. The phone number is optional. Once you completed it, continue with signup.
You need to enter your name there. You might want to enter your legal name.
Complete the captcha and submit for approval.
You are now successfully completed the signup. You will see it on the next screen.
You are done. A copy of the invitation request will be sent to your registered email address.
Approval Time
Once you got signed up for Media.net, they will take a minimum of 2 days to review your application. If you didn't hear anything back from them within a week, you can write to their support team and they will check your application.
Or, you can also contact Media.net on their official Twitter account.
Ad Types
The AdSense team got display ads such as banner, in content, in feed, etc and link ads. Let's see what are the ad types offered by Media.net.
Contextual Ads
This is the king. Contextual ads will make you more revenue than usual. For example, let's say that you are writing a post about the best dog foods. And the Media.net system will analyze the content and it will show the most related ads according to the content.
In this case, you can see the dog food-related ads on the website. Possibly, this will increase clicks and revenue.
Display Ads
You know these ads. Just banner ads with a catchy image and some text on it. The main ad type of almost every ad networks.
Video Ads
In the content, you can show some video ads. You know videos will get higher user engagement than typical banners. It's a great way to increase the overall revenue. When we tried this on one of our sister websites, we have found that there's a huge rise in the overall CPM rate.
Native Ads
You can integrate the ads seamlessly into your content. In that case, you will get more clicks and user engagement on those ads. Thankfully, these ads will skyrocket the revenue!
Customizable Ads
The ads are 100% customizable. All you need to do is, log in to your Media.net account dashboard, go to ads, customize it. With some mouse clicks, you can change the complete styling of your ads.
No coding required.
Media.net Earning Modal
Media.net's earning model is CPM. CPM stands for Cost Per Mile a.k.a Cost Per 1000 Impressions. Let's say you have generated 200 impressions a day and your RPM is $5. At the end of the day, you will make $10 in your Media.net account.
Here's another example. You have got 1000 impressions and you have an RPM of $15. In that case, your earning will be $15.
The point is, increase your RPM. Bringing top-level country traffic will increase your website RPM.
Media.net Earnings
The threshold is $100. You can get your funds via PayPal or Payoneer. Once you got $100 in your Media.net account, you will get the fund after 30-days.
Support
For every publisher, they will give a dedicated account manager. The account manager will help you to maximize revenue, improve your ad visibility and more…
Well, this is for their current active publishers. If you are planning to apply for Media.net or got banned, the support team won't reply to your emails. I have seen this situation many times – in my friend's cases. So publishers can get better support but not a good experience for the new publishers!
Suspended Media.net Account?
They will give you an appeal form to fill up. It might be a .pdf file. Use the form, describe well why you think your account got suspended and send it to the compliance team. Media.net will suspend publisher accounts for low-quality traffic.
If you are receiving mainly low-quality traffic and a few USA hits on your website, you may want to consider bringing more top-level users to your blog.
Once you submitted the appeal form, it will take 14 days to review the appeal.
Get Started With Media.net
So you really want to join Media.net and make some money? You can join the program free from below.
We hope you found this Media.net review helpful and enjoyed the read. If you did, please consider sharing this post with your friends and fellow bloggers on social media.
If you are looking for a form builder plugin for your WordPress blog, check out WPForms. Our WPForms review will tell more about the plugin.
Media.net Ads
Performance

Support

Ease of Use
Summary
Media.net is one of the best Google AdSense alternatives for publishers. We have personally tried Media.net ads on our account and here's what we found! In this Media.net review, we will share it!