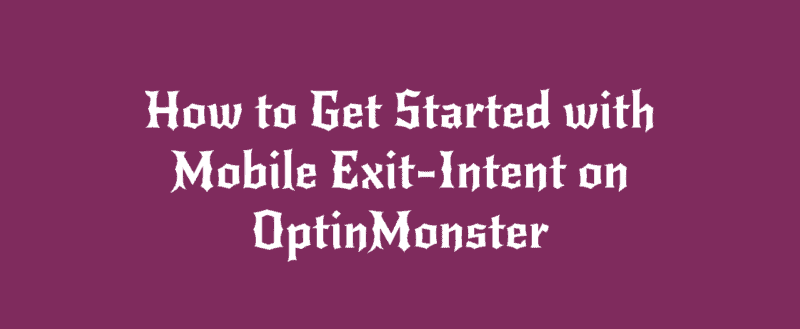 Exit-Intent is an awesome feature for reducing cart abandonment. There are so many WordPress plugins and tools that are available for adding an exit-intent pop-up to a WordPress blog. And mainly, the exit-intent pop-ups are targeting computer visitors. Mobile visitors won't see these pop-ups.
Well, not anymore.
The popular lead generation plugin OptinMonster created something awesome for their users. And in this article, we are going to show you how can you enable the mobile exit-intent on OptinMonster and reduce cart abandonment more efficiently.
OptinMonster
OptinMonster is a premium WordPress lead generation plugin created by the Awesome Motive team. The plugin is used by millions of bloggers, developers, online shops for generating leads from existing traffic. And the OptinMonster plugin comes with so many unique and advanced features like
MonsterLinks.
Geo-Location Targeting.
Yes/ No Forms.
Sidebar Forms.
Countdown Timer.
Inline Forms.
Coupon Wheel Optins.
Etc.
And OptinMonster is the best lead generation plugin in the market.
How To Mobile Exit-Intent On OptinMonster
The first thing you need to do is, purchase the premium version of the OptinMonster WordPress plugin. If you check their pricing page, you could see that there are four premium pricing options are available.
Basic – $9/ month.
Plus – $19/ month.
Pro – $29/ month.
Growth – $49/ month.
You can purchase a plan using your PayPal account or credit card. After purchasing the plan, log in to your OptinMonster account. You will need to create a new campaign then.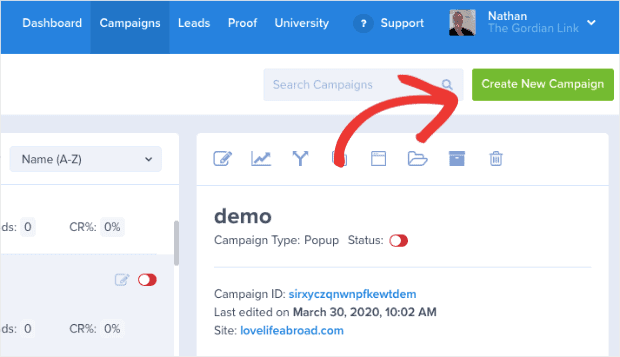 You will see several campaign types there. For integrating exit-intent technology, we are going to use a Pop-Up form as the campaign type.
Now, you will be redirected to their template library. Just like the WPForms templates pack, OptinMonster got so many awesome pre-made forms there. Since we are targeting mobile visitors, we might want to filter the mobile-optimized templates.
You can also start from scratch using the Canvas Template.
On the next step, choose the Magnet option.
And after that, you will see an option for naming your form. Give a name for your campaign and choose the website. The campaign name won't be visible in the website's frontend. It's just for identification.
OptinMonster comes with a simple drag and drop optin builder.
Since you have chosen a template, it will be pretty easy to edit the optin. Just select the element you want to and on the right side, you will see the customization options. Once you have done designing your optin, let's move to the next step.
Now, we have successfully designed a beautiful optin using the OptinMonster app. For enabling the exit-intent feature, you might want to make some changes in the Display Rules.
In the top bar, you could see an option named Display Rules.
You will need to change the option from the time one page to exit detected.
Once you have changed the option, you will need to select sensitivity for your optin. As of now, they have 3 modes.
We recommend you choose the Low or Medium sensitivity for your campaign. Right below that, you will see another option – choosing the targeted optin. By default, it will be selected to choose a specific URL.
You will need to select the exit detected option there too.
Choose High sensitivity for this condition.
Now we have 2 custom rules for the campaign. OptinMonster app also allows you to select the custom pages, posts you want to display the optin. If you need to add extra rules, that's possible.
In our case, we need to display the optin on every page. So choose the Current URL Path and Is Any Page.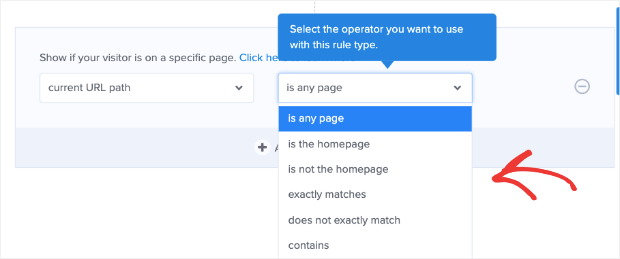 When we set this rule, the optin will be visible on your whole site. This is a great option for all of us. Now, we are good to go. All you need to do is, finish the campaign, make it live through the OptinMonster WordPress plugin.
However, we have used a mobile-optimized template for this tutorial. If you are using a desktop template or planning to create one from scratch, you might want to do some additional things.
You can also target the devices through rules. As you can see in the below screenshot, it is better to target Desktop devices with Medium priority and Mobile devices with a High priority.
So this is how you can enable the mobile exit-intent feature on your OptinMonster account. Once you have done the customization, get back to your WordPress dashboard, enable the optin in your blog.
Clear the cache if you are not seeing the optin in the frontend. Also, try accessing the website from the incognito window so you can make sure that everything is fine.
This is a great way to build your email list or increase eCommerce conversions.
Get Started With OptinMonster
You can get the premium version of OptinMonster from below.
We hope you have found this article helpful and enjoyed the read. If you did, please consider sharing this post with your friends and fellow bloggers on social media. Feel free to check out our WordPress tutorials section for more step-by-step guides.