Are you ready to start a WordPress blog?
When you are a complete beginner, it might be pretty hard to get everything working. So, here at WPReviewStudio, we are going to show you a step by step guide tutorial for starting your blog.
So if you re looking for a beginner-friendly guide, this post will help you.
Why Choose WordPress?
There are indeed so many CMSs are available out there which will help us to create a blog. Some of the popular ones are
WordPress.com.
Blogspot.
Wix.
Weebly.
Joomla.
Magento.
Custom Html.
Etc.
Well, the self-hosted WordPress will make the job pretty easy for you. Recent studies show that WordPress powers 31% of websites in the world! That's pretty huge.
There are so many free, premium WordPress themes and plugins are available. It will probably make your website faster, smoother, and safer. Plus, you can easily create anything and everything using WordPress.
No coding required or no need to hire a freelancer.
How To Start a WordPress Blog?
For making your website, you need two things.
A Domain Name.
Web Hosting.
We'll explain it below.
What Is Domain Name?
A domain name acts as your home address.
Let's say that you need to access Facebook. You might need to enter www.facebook.com in your browser. So, Facebook's domain name is Facebook.com. The same goes for Google. Google.com is the domain name.
You need to choose an available domain name. When you need to use a domain name that is already registered, you might want to contact the current domain holder, make a deal. This will cost you more than you expected.
There are so many domain registrars are available. Some of the popular ones are GoDaddy, Namecheap, NameSilo, etc.
In our case, we are using Namesilo for domain names. They will give you the best affordable price and free privacy protection (whois guard) for a lifetime.
Typically, a domain name will cost you only $10 or $15 a year.
What Is Web Hosting?
Web hosting is like a home to your website.
Simply think about this. You are hosting these files on your computer or cell phone. They are stored on a web server and serving accordingly. There are so many hosting types are available like
Shared Hosting.
Managed WordPress Hosting.
VPS Hosting.
Cloud Hosting.
Reseller Hosting.
Dedicated Server Hosting.
Etc.
When you are a pure beginner, you just need the shared hosting plan. Typically most shared hosting plans will cost you around $3 a month to $15 a month.
You need to choose a web hosting that is affordable, secure, care for their customers.
Popular Web Hosting Companies In The World
There are so many web hosting companies that are around the world. Anyway, we always recommend the most trusted ones and provides customer satisfaction. So, you might want to check out
Etc.
When you are starting your first WordPress blog, you don't need to choose a managed WordPress hosting company. Shared hosting would be a perfect fit for your needs.
Plus, we have seen that there are so many folks who are starting a local web hosting company for low prices. Trust me – don't buy hosting from them. They couldn't give you proper uptime, support, and security. So, always go with a trusted web hosting company.
Our Choice: Bluehost
Bluehost is the best. Affordable and stable web hosting company. Plus, it is also recommended by the WordPress community. So, we recommend the beginners Bluehost.
When you need more power, you can easily migrate your blog to another plan or another hosting. WP Engine, Flywheel, and Kinsta are for professional bloggers who receive a ton of traffic.
For our users, Bluehost will give you a custom discount which will help you to save some money! This is a limited time deal. So, you might want to consider purchasing the hosting ASAP.
Purchasing Hosting and Domain
First of all, go to Bluehost.
The regular price for shared hosting is $7.99 a month. And for our users, it will be $2.95 a month. Impressive, isn't it?
Click on the get started button.
You will see the pricing card on the next page.
Right now, they are offering four shared hosting plans.
Basic – $2.95 a month.
Plus – $4.95 a month.
Choice Plus – $5.45 a month.
Pro -$9.95 a month.
The basic plan comes with essential features. But the thing is, it is single domain hosting. This means you can only host only one WordPress blog in the basic plan. All other plans are multiple domains hosting compatible. So, choose wisely. If you are only planning to host only one website, the basic plan is good enough.
We are planning to choose it.
Here's another excellent deal. You will get a free domain name from the team. If you already have a domain purchased from somewhere else, that's cool. You can transfer it to Bluehost or update your nameservers.
Here, we are about to get a free .com domain name.
You will be redirected to the account creation wizard.
Enter your account information. Choose your package.
36-months billing will give you a maximum discount on the hosting. Bluehost will automatically add some add-on services to your package.
You might want to disable them.
You can see that the total price to pay is just $118! And we have saved more than $181!
Enter your card details and purchase the hosting.
If you prefer PayPal, you can always pay with it. You are good to go!
Installing WordPress On Website
Now let's move to the next step – installing WordPress.
Log in to cPanel, and under the website section, you could see WordPress installer.
You will be redirected to the WordPress installer. Choose a domain name where you need to install WordPress.
Configure the installation like choosing a site title, username, password, etc.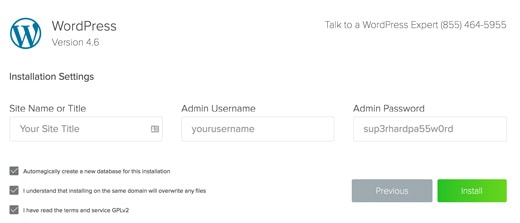 Once you got clicked on the install button, the system will install WordPress on your website. It will take only a few seconds.
Done!
If you check the site from the frontend, you could see the live-action.
Cool!
Accessing Admin Area
Now you have successfully installed WordPress on your website. The next thing we need to do is, access the WordPress admin area and configure the site.
For accessing the admin area, add /wp-admin to the end of your URL. For example, let's say that your domain name is example.com. When you need to access the admin page, add the URL like example.com/wp-admin. It will show you a page something like this.
By using the user credentials, you will be able to log in to the backend.
That's it!
Best WordPress Themes
WordPress will automatically install a default WordPress theme for you. But, we can always add new WordPress themes. Here, we will always recommend using premium WordPress themes if you care.
Some of our recommended WordPress themes are:
StudioPress
A popular WordPress framework – Genesis Framework is created by StudioPress. Millions of bloggers are using Genesis on their business website, personal website, portfolio, etc. A child theme is essential for keeping the updates easy. The SEO friendly and optimized code will help us to get maximum traffic from search engines.
GeneratePress
In Sreehari P Raju, we are using a customized version of GeneratePress. GeneratePress is a freemium WordPress theme which can be downloaded from the WordPress themes repository. A premium version (which is a plugin) can be purchased from their official store. It will add some more advanced features to the website's customizer.
We are using the premium version. Once you got activated the plugin with a valid license key, you will get future updates!
Elegant Themes
You might be heard of the Divi WordPress theme. Elegant Themes created divi. By using Divi or Extra, you can easily create, customize your blog. Some other plugins are available like Bloom, Monarch, which will help you in lead generation and social media share buttons.
Their themes come with a drag and drop WordPress page builder called Divi Builder. It will make your life easier.
MyThemeShop
MyThemeShop is our other favorite WordPress theme club. If you check our blog posts (reviews), you will notice that we are adding review schema there. It's done by using the WP Review Pro by MyThemeShop. It is an excellent plugin. Plus, we are huge fans of their Schema Pro theme.
It is one of the fastest. SEO ready and speed optimized WordPress theme for magazine blogs. You can check more about the product from our Schema theme review. Also, feel free to check out our WP Review Pro review.
In our blog, we are using a custom child theme, which is made on top of the Genesis Framework – StudioPress theme. But the mentioned WordPress themes and shops are beginner-friendly and speed optimized. You can easily install it, configure, start working on it!
Just like that!
NOTE: There are more WordPress theme shops, and beautiful WordPress themes are available. We will cover them all shortly. If you'd like to know, please consider bookmarking this page.
Best WordPress Plugins
By using the right, powerful WordPress plugins, you can quickly improve your blog's SEO, performance, user experience, etc… And in this section, we are about to show you the best and must-need WordPress plugins on a blog.
WPForms
A famous drag and drop WordPress plugin available in the market. WPForms is a freemium plugin. This means they do have a free version called WPForms Lite, which can be downloaded through the WordPress plugins repository. And a premium version with so many excellent advanced features.
Our WPForms review will tell you more about the plugin.
WP Rocket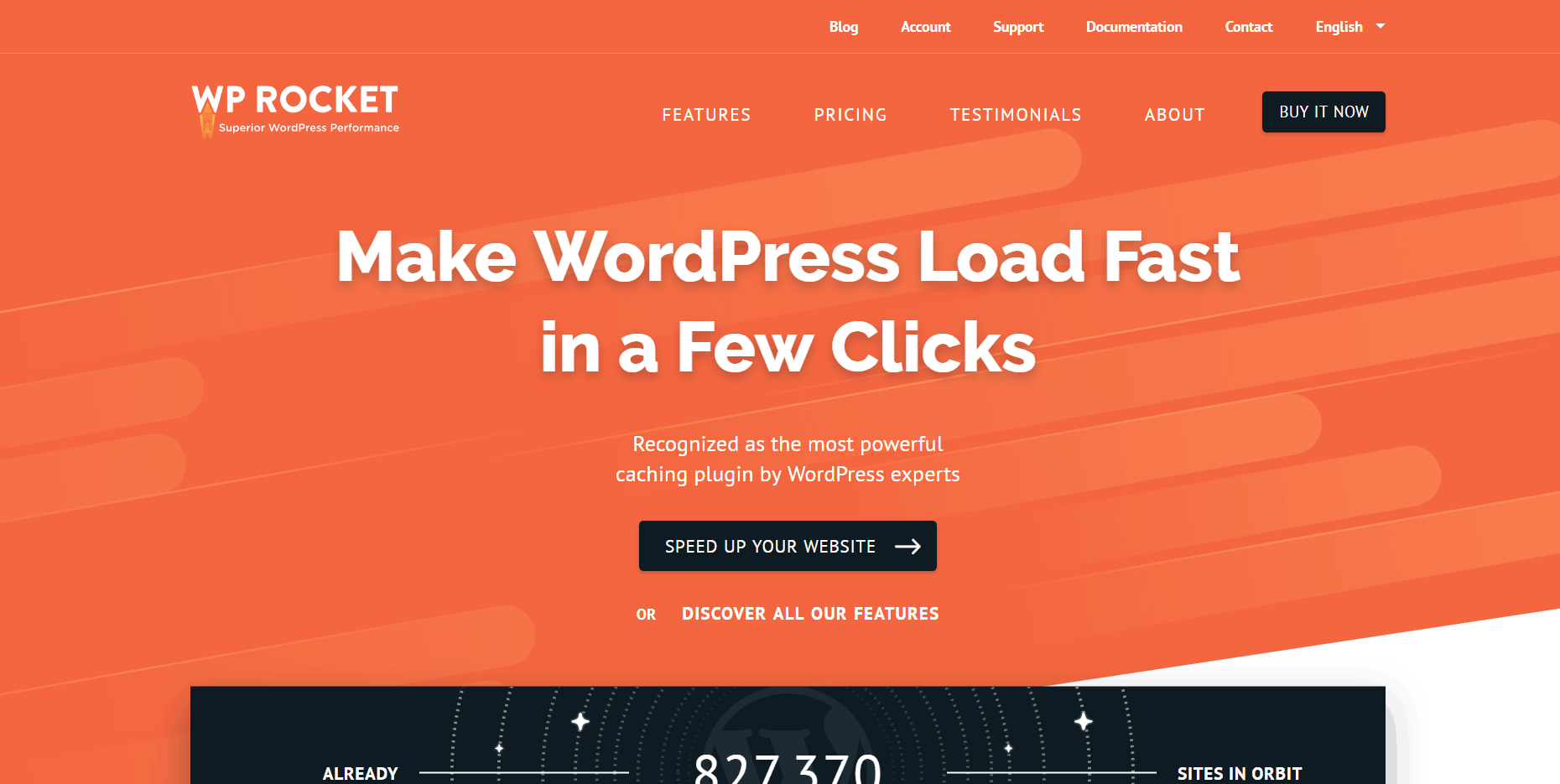 Your website's speed matters. In our all websites and client websites, we are using WP Rocket as a caching plugin. Nearly 1 million WordPress installs use the plugin, and I am pretty sure that they are enjoying the performance.
According to other popular WordPress caching plugins, WP Rocket provides a clean and straightforward user set up wizard, which will help you easily configure the plugin. And it can also be integrated with Cloudflare, Google Analytics, Sucuri, etc.
Our WP Rocket review will tell you more about the plugin. An excellent plugin for WordPress speed optimization.
Rank Math
Are you looking for an SEO plugin for your WordPress blog?
You might be aware of the Yoast SEO plugin. However, we have moved all our blogs to Rank Math. Rank Math is a new WordPress SEO plugin that is created by MyThemeShop. It offers so many advanced features, while other plugins integrate those features on their premium version.
Setting up Rank Math is also simple.
Akismet
Most content blogs are enabled comment section in their blog posts. One issue you need to sort out is managing the spam comments. We have been in this situation a lot of times. Not just us. Every WordPress blog which got decent traffic has suffered from this. Well, here's Akismet.
A plugin from the Automattic team which will help you to clean the comments. It is a freemium plugin. By using your WordPress.com account, log in to the system. Retrieve the API key and activate the plugin in the blog. The system will automatically filter the comments and put every spam comment in a dedicated section.
You could discard all spam comments automatically or held them for review.
In our blog, we are keeping the spam comments and automatically optimizing the database (including the spam comments) using the WP Rocket plugin. Every day!
MonsterInsights
For keeping an eye on your website visitors, we recommend you use Google Analytics. There usually are two methods are available for integration.
Traditional.
Analytics Plugin.
Both methods are pretty straightforward. When you use the traditional way, you might want to visit the GA property each time when you need to see the stats. On the other hand, a plugin like MonsterInsights would make it a lot easy.
By using MonsterInsights, you can track almost everything in your blog. From scroll depth to file download tracking. Also, the plugin will help you yo track your forms. See our MonsterInsights review for more.
OptinMonster
Need to do lead generation in your WordPress blog?
There are so many lead generation plugins are available for WordPress. For our visitors, we recommend you OptinMonster. A premium plugin that can be integrated with WordPress, Magento, Joomla, and almost all CMSs.
With the latest cutting edge technologies like a welcome mat, full-screen overlay, MonsterLinks, etc. OptinMonster knows how to convert your website, visitors to email subscribers accurately. Plus, the plugin is compatible with every email marketing services. You can integrate it properly.
SeedProd
When you need to enable maintenance mode or to come soon mode in your WordPress blog, you could use this plugin—developed and managed by Awesome Motive. SeedProd is a freemium WordPress plugin.
When you handle a business blog, I recommend the premium one. The additional add-ons will make your coming soon pages more compelling.
Social Snap
Search engines are not the only way to bring traffic to a website. Most folks use social media for sharing news, tutorials, etc. Well, you could use that power! I am not talking about sharing your blog posts on your own Twitter and Facebook page. If the content is fantastic, users will share it on their wall.
All you need to do is, write the best content and add a social media share button. If you check this post, you can see that we do have a plugin for showing sharing buttons. In our blog, we are using a freemium plugin called Social Snap.
There are so many others that are available like Social Warfare, AddToAny, etc. But we are huge fans of this Social Snap plugin. It is speed optimized and highly customizable.
ThirstyAffiliates
Affiliate marketing is one of the best methods to make money online.
Using affiliate links directly is not recommended. If you check out our blog, you can see that we are using cloaked affiliate links. It is done by using ThirstyAffiliates. The plugin will make ugly long affiliate links to a simple one. For example, let's take a ShareASale affiliate link.
https://shareasale.com/r.cfm?b=111111&u=000000&m=26748&urllink=&afftrack=
Too long isn't it? Plus, when you need to enter the link to a specific post, page, or CPT, you might want to check the link every time. But using the ThirstyAffiliates plugin, you can link like:
https://wpreviewstudio.com/refer/grammarly/
Easy!
More configurations are available in the settings like adding nofollow tag, redirection, etc.
BJ Lazy Load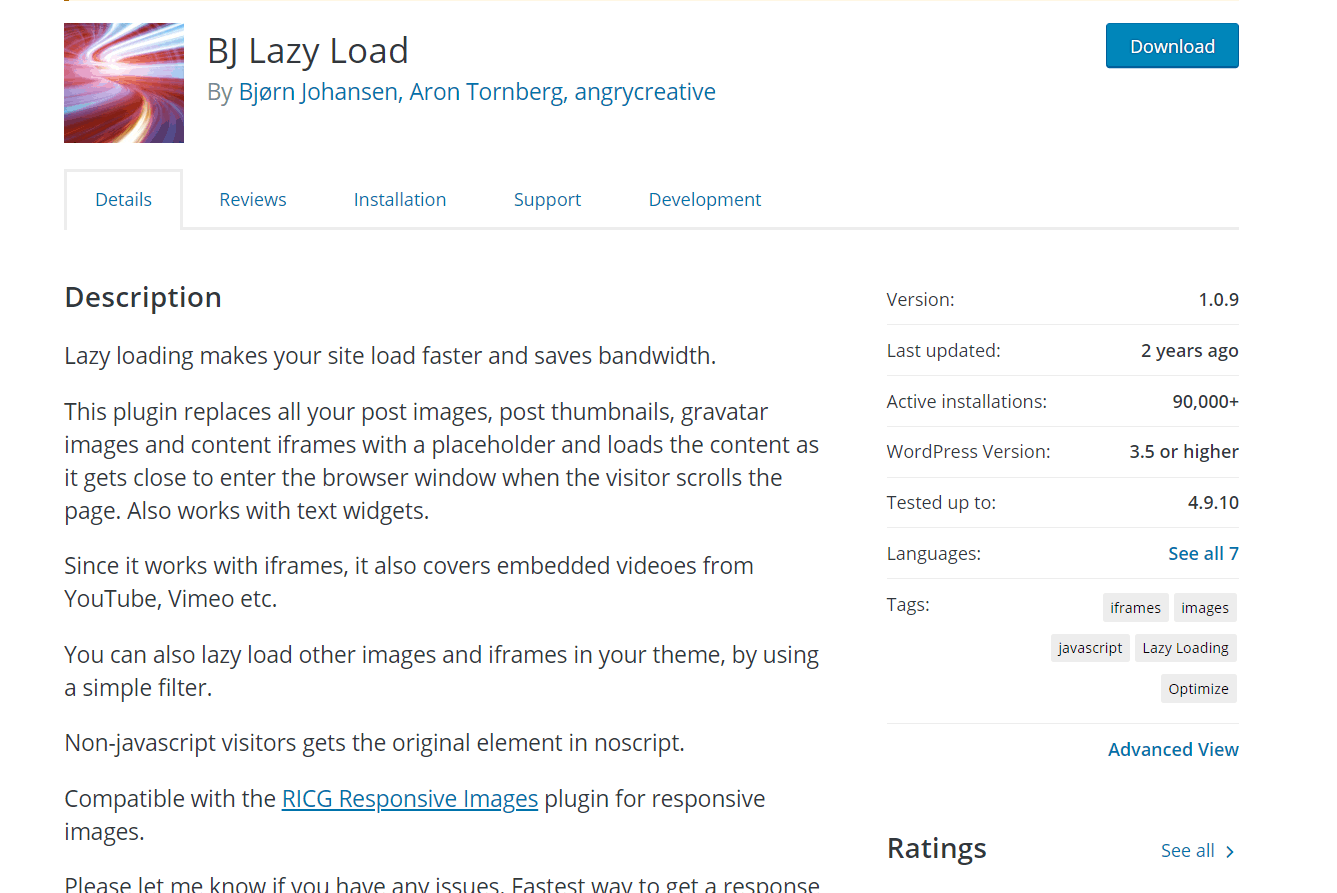 When we add a lot of images into a blog post, it will probably load slowly to the website visitors. The reason is, serving all photos in a single page load will take a lot of time. The plugin BJ Lazy Load will automatically replace all your available photos. So it will be served only when a visitor comes to nearly it.
Most caching plugins and performance plugins like perfmatters are already offering this feature by default. WP Rocket also got this feature. If you have enabled the lazy loading there, you don't need this BJ Lazy Load plugin.
BackupBuddy
An excellent WordPress backup and restore plugin by iThemes.
We were using this plugin on all our websites because, in a single click of a mouse, we can create a complete website backup or just the database backup. More than a million WordPress blogs use BackupBuddy.
In the settings, you will also see the configuration for sending the backup to a remote destination—an easy to use WordPress backup plugin.
ShortPixel
When we run a content-based website (like ours), you might want to upload a lot of images. However, uploading non-compressed images will indeed slow down the sites. Plus, it will take more storage space in your web server and eat all your bandwidth. Well, we do have a solution for you.
Here is ShortPixel, a freemium WordPress plugin that will make the image optimization like a breeze. We are using it. Once you have got uploaded the images to your WordPress site, the plugin will automatically compress them—no need to do anything manually. Plus, you can delete the original photos from the server, keep the optimized one.
Some of the plugins are free, and some are complete premium. These plugins will help you!
Conclusion
See. It will take only 30 minutes to start your WordPress blog.
Don't wait!
Start a WordPress blog right now!
Found this post helpful?
If you did, please consider sharing this post with your friends and fellow bloggers on social media. It will probably help someone to start a WordPress blog.