A lot of our users got asked how some websites got sliders on their homepage. In some cases, that would be a theme-specific feature. However, they always wanted to create custom sliders from scratch. When you are running on self-hosted WordPress, there are so many WordPress plugins are available for doing this.
And in this post, we are going to show you one best WordPress slider plugin – Slider Revolution! A cool WordPress slider plugin which is developed by ThemePunch. If you are planning to create a slider in your blog or purchase the plugin, this Slider Revolution review will help you!
Because we will be sharing all the plugin features here. Everything you need to know.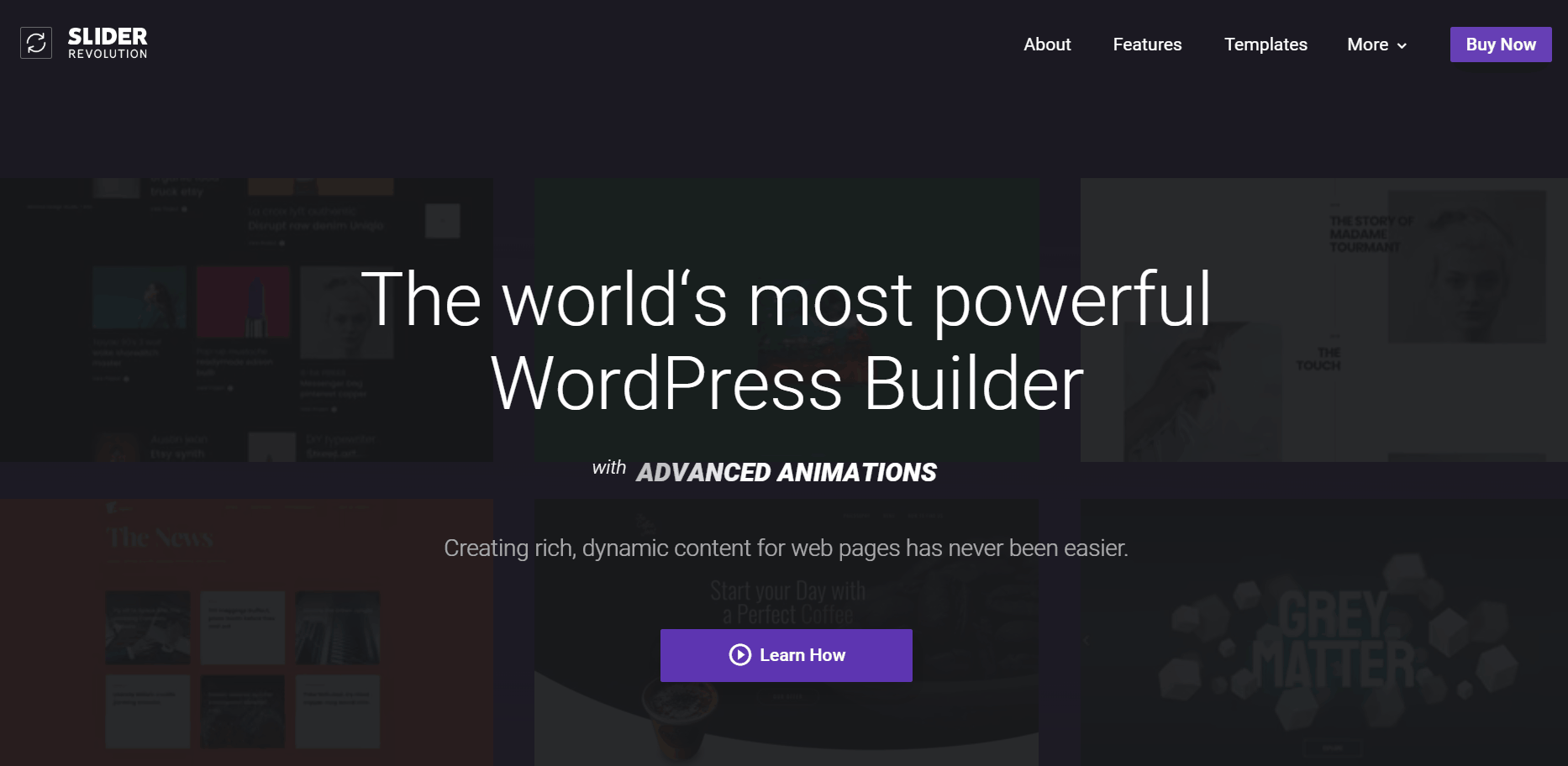 Who Need a Slider?
Almost everyone. The one who runs a
Magazine Bog.
Food Blog.
Fashion Blog.
Tech Blog.
Travel Blog.
News Website.
or anything. Adding a slider to the homepage will grab your website visitor's attention easily. So many people are doing it and it works perfectly fine.
Slider Revolution Review
ThemePunch created the Slider Revolution WordPress plugin back in 2012. At this time, the plugin is on version 6 with so many improvements, bug fixes, and features. The plugin is sold via the CodeCanyon marketplace.
Yet, Slider Revolution got more than 326.430 sales and got 4.7-star ratings from 8800+ reviews. This clearly tells that this one is a beast in the market. Plus, ThemePunch is a Power Elite author at CodeCanyon marketplace. So, you are getting something from a reputed company!
Here's a short video which will explain the plugin's features.
Installation and Activation
Installation and activation of Slider Revolution are pretty simple. Since it is a premium WordPress plugin, we couldn't install it from the WordPress plugins repository. You can install the plugin using an FTP client or by manually uploading the plugin. Here, we are going for the manual uploading.
So first of all, log in to your WordPress admin section and go to the add new plugin area. There, you will see an option for uploading the plugin manually. Choose the plugin file and upload it to your blog.
Once you got successfully installed, you need to activate the plugin.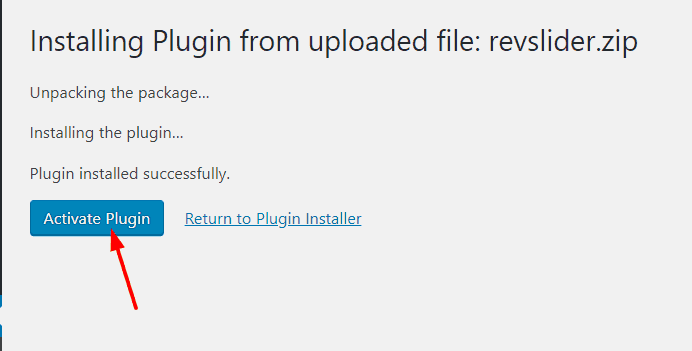 Now you could see the plugin's settings in the WordPress dashboard.

Next thing we needed to do is, activate the product.
License Verification
From the CodeCanyon downloads section, you could see the activation key.

If you are having trouble to find it, you can easily contact the author team. They will help you to find the key.
Once you got the key, move to the activation section.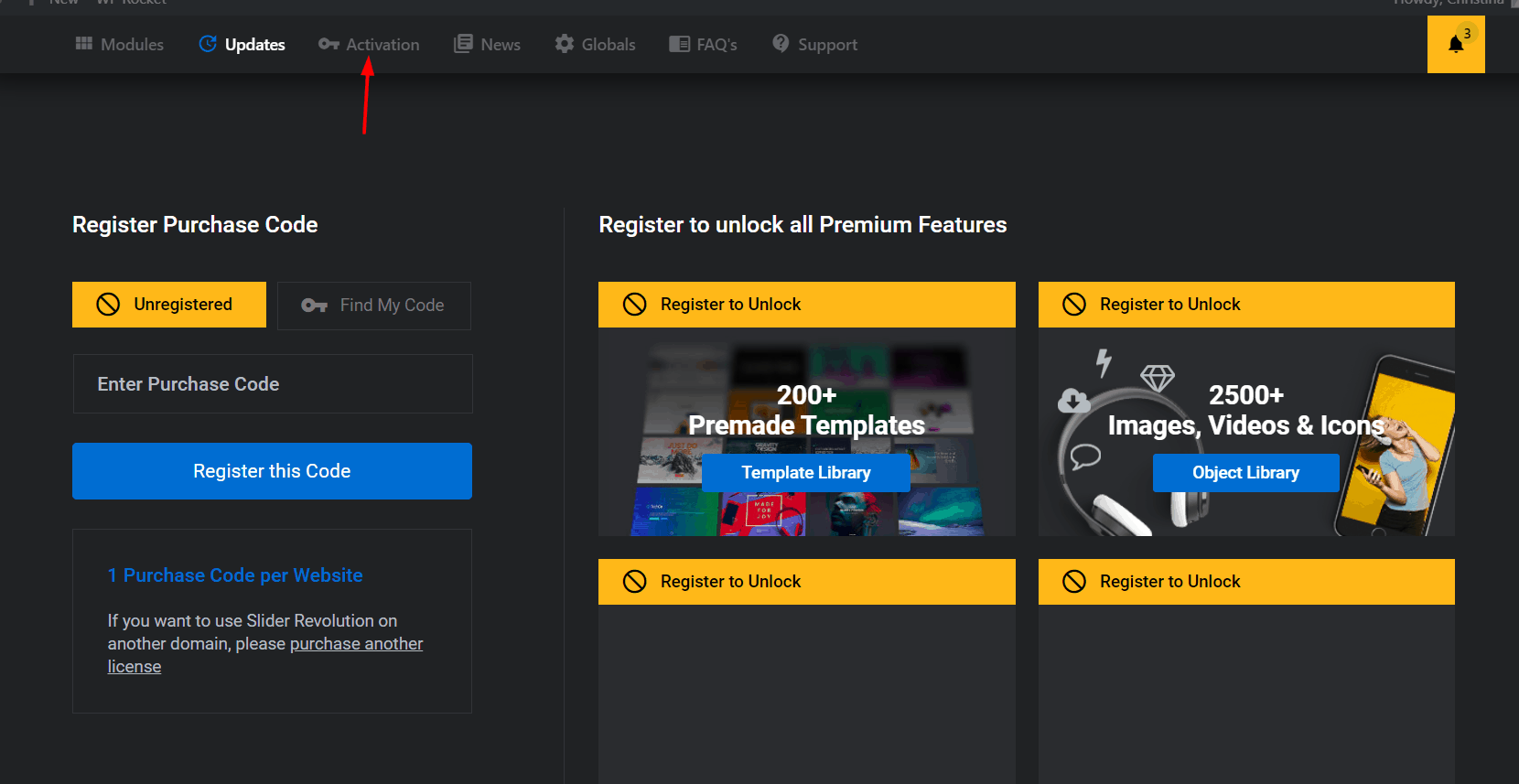 Enter your activation key and register the product.
If the key is correct, your product will get registered almost instantly.
Features of Slider Revolution
Well in the market, you could see a lot of WordPress slider plugins. What makes the Slider Revolution the best one? Probably, they offer more features! Before purchasing any plugins online, we might check out its features. And in here, we are going to list the complete features offered by Slider Revolution.
Optimized For Speed
Website speed is a crucial thing to consider. By properly configuring a WordPress caching plugin like WP Rocket and a performance plugin like perfmatters, we could easily improve the website loading time. Currently activated theme, plugins will also affect the website speed. If you are using a bulky WordPress theme, you will get a 3-second delay in the overall WordPress loading speed.
Using too many plugins (bulky ones) will also make the website slow.
However, does this Slider Revolution plugin affect the website speed?
Absolutely no!
ThemePunch coded Slider Revolution very carefully with the cutting edge technology.
Creating a Slider
In the homepage, you will see 4 options.

Blank Mode.
New Module From Template.
Manual Import.
Add-ons.
Let's dive to each section.
Blank Mode
When you click on the new blank mode button, you will be redirected to the slider building wizard.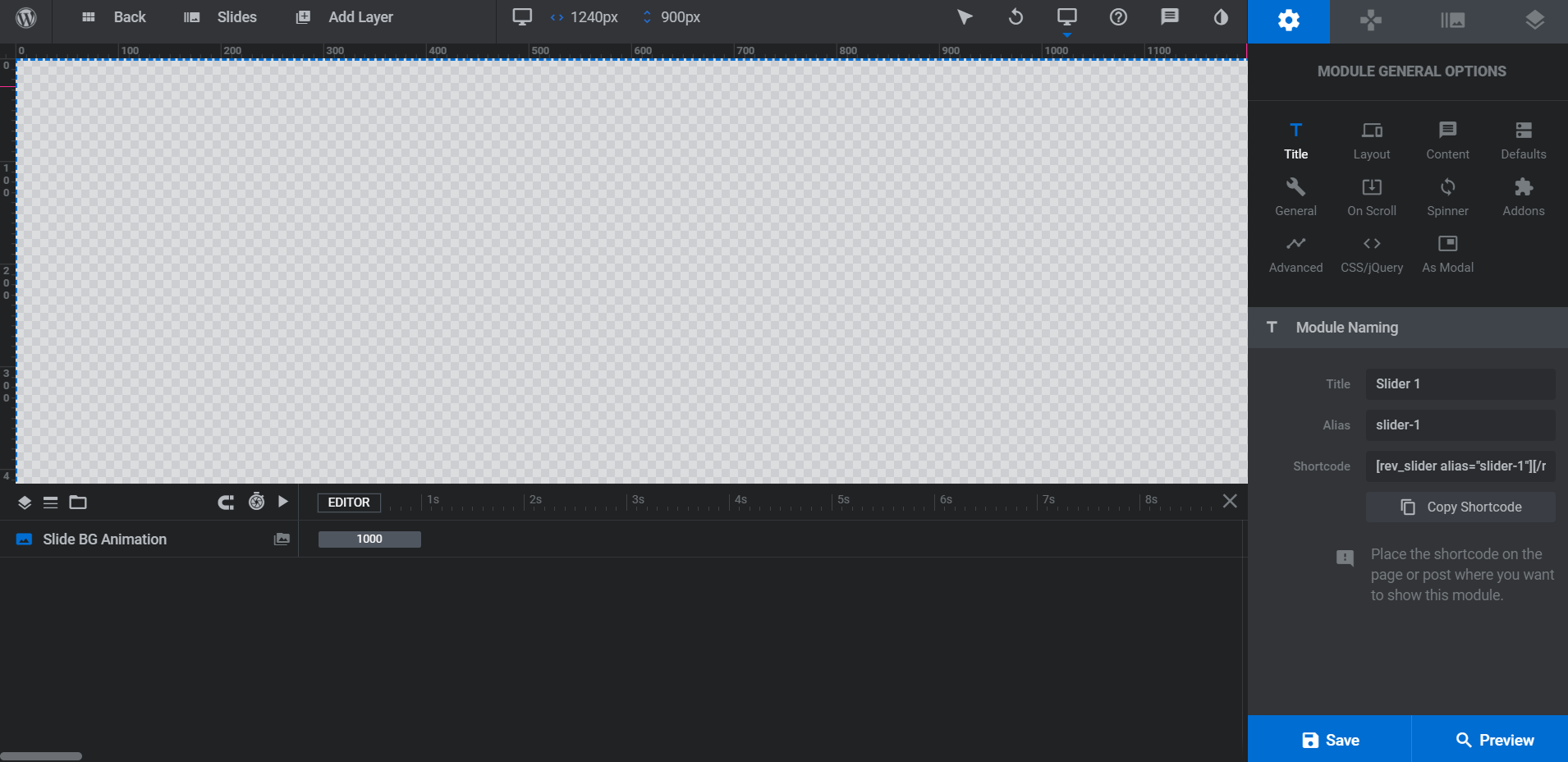 The team offers a drag-and-drop builder. Well, if you are a pure beginner in this, you might feel this is pretty hard to configure. From the Slides section, you can add new slides to your slider.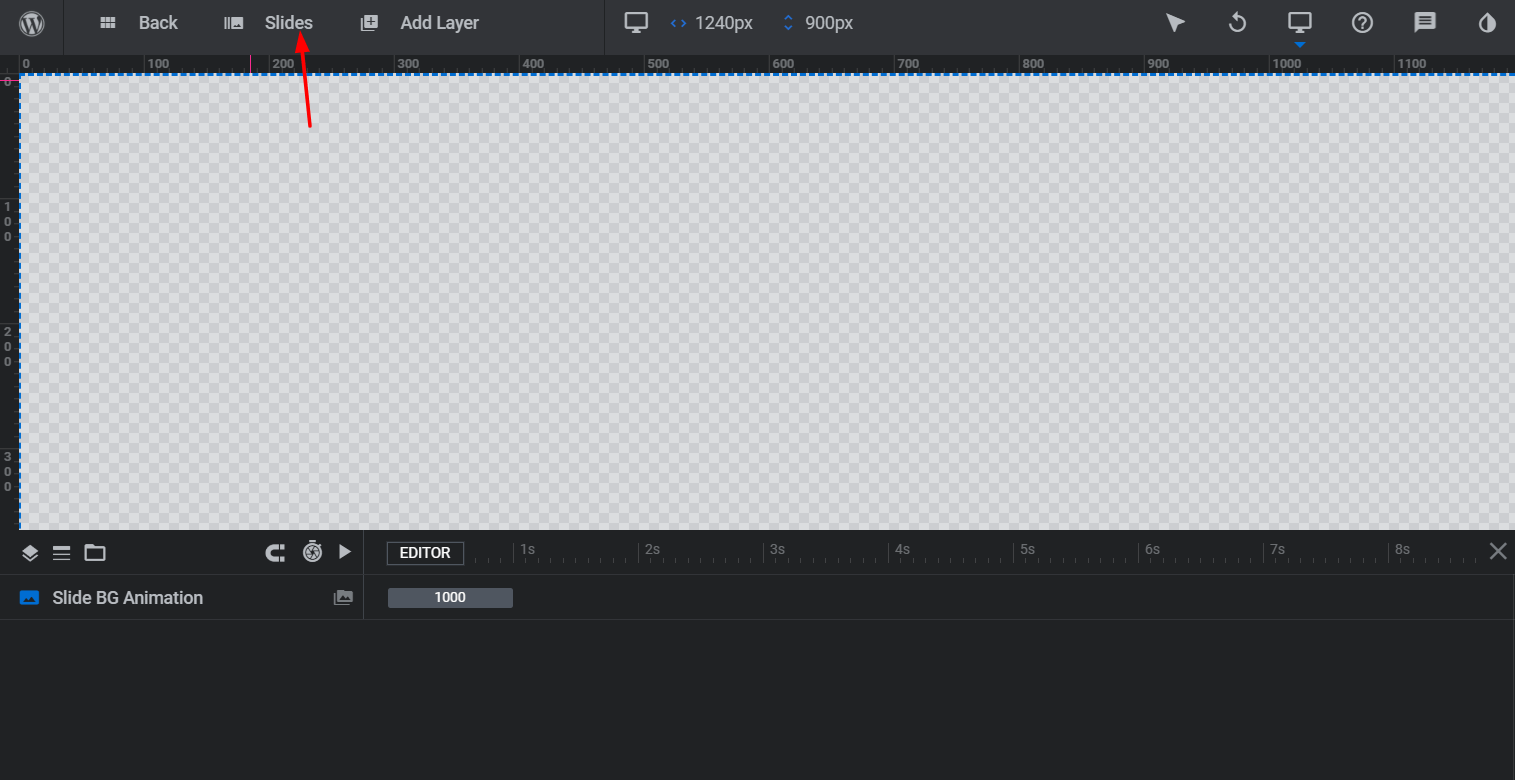 From the layers section, you can add new elements.
Elements like
Text.
Image.
Buttons.
Shape.
Video.
Audio.
Icon.
Row.
Group.
Layer Library.
Import a Layer.
By selecting elements from there, you can add them. Once you have added an element to the editor, you can see the configuration in the panel.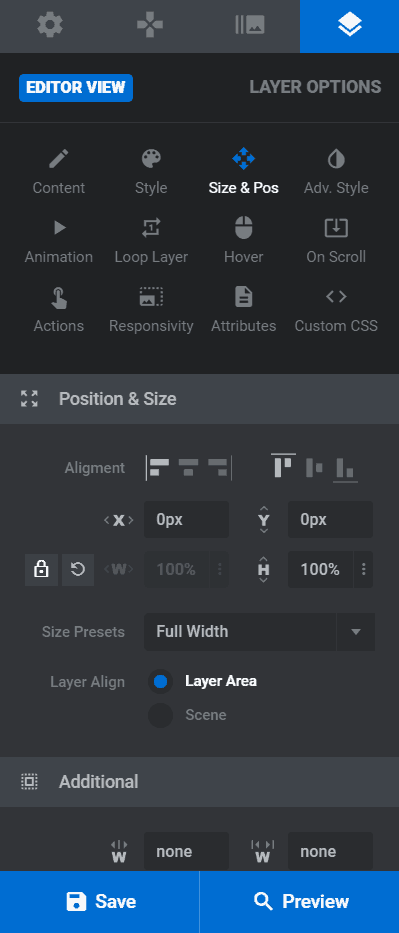 One setup we loved is the preview mode. Once you got configured the slider, just click on the preview button. The live preview will be loaded in a pop-up window.
That's an impressive, feature.
Import From Template
This is my favorite feature available in the Slider Revolution plugin.
When you don't need to start from scratch, you could easily import their pre-made templates to your website. At this time, there are so many awesome, well-designed templates are available in the template library.
The team got categorized the templates as
Slider.
Carousel.
Hero.
Website.
Special FX.
Post Based.
Social Media.
Basic.
You can choose the option from the menu and they will filter the specific templates for you. When you need to import a slider to a live installation, select a demo.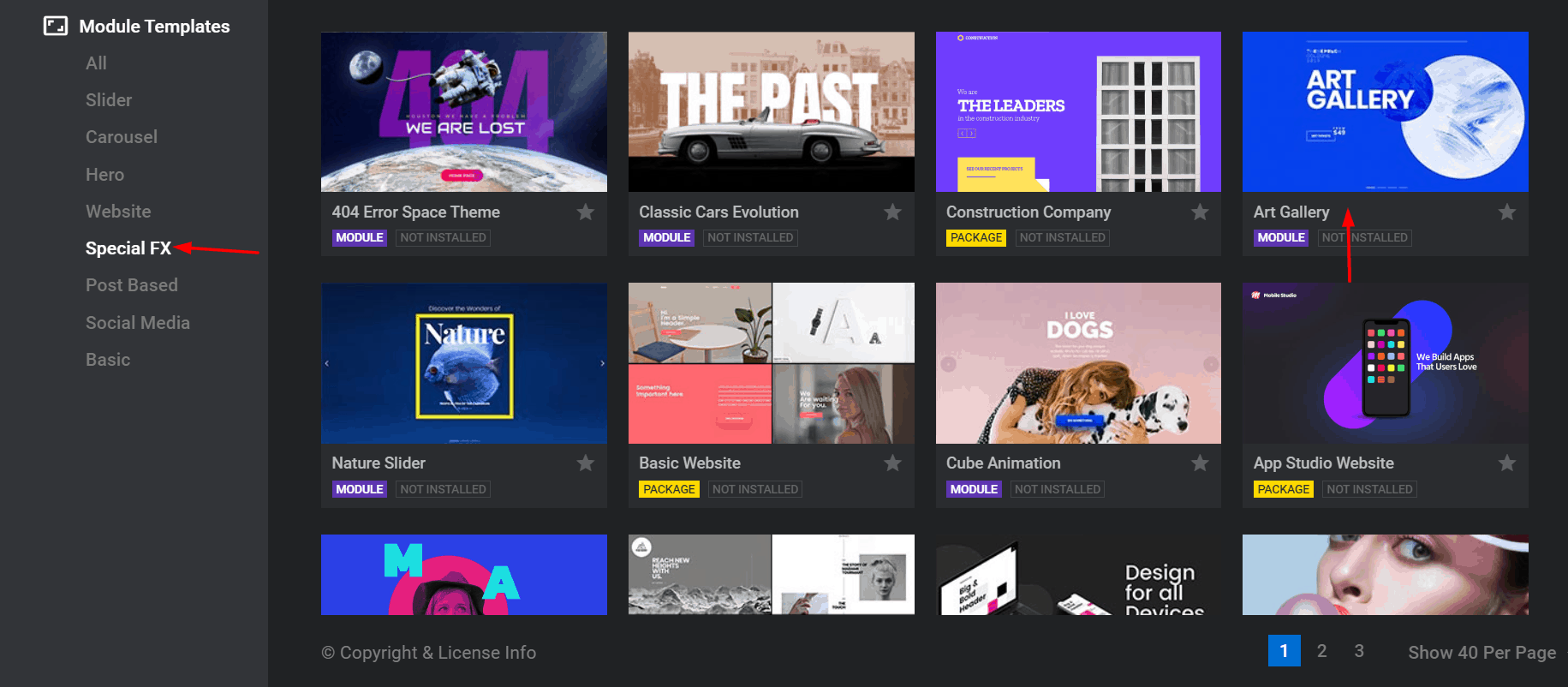 It will show you a pop-up where you can install the template.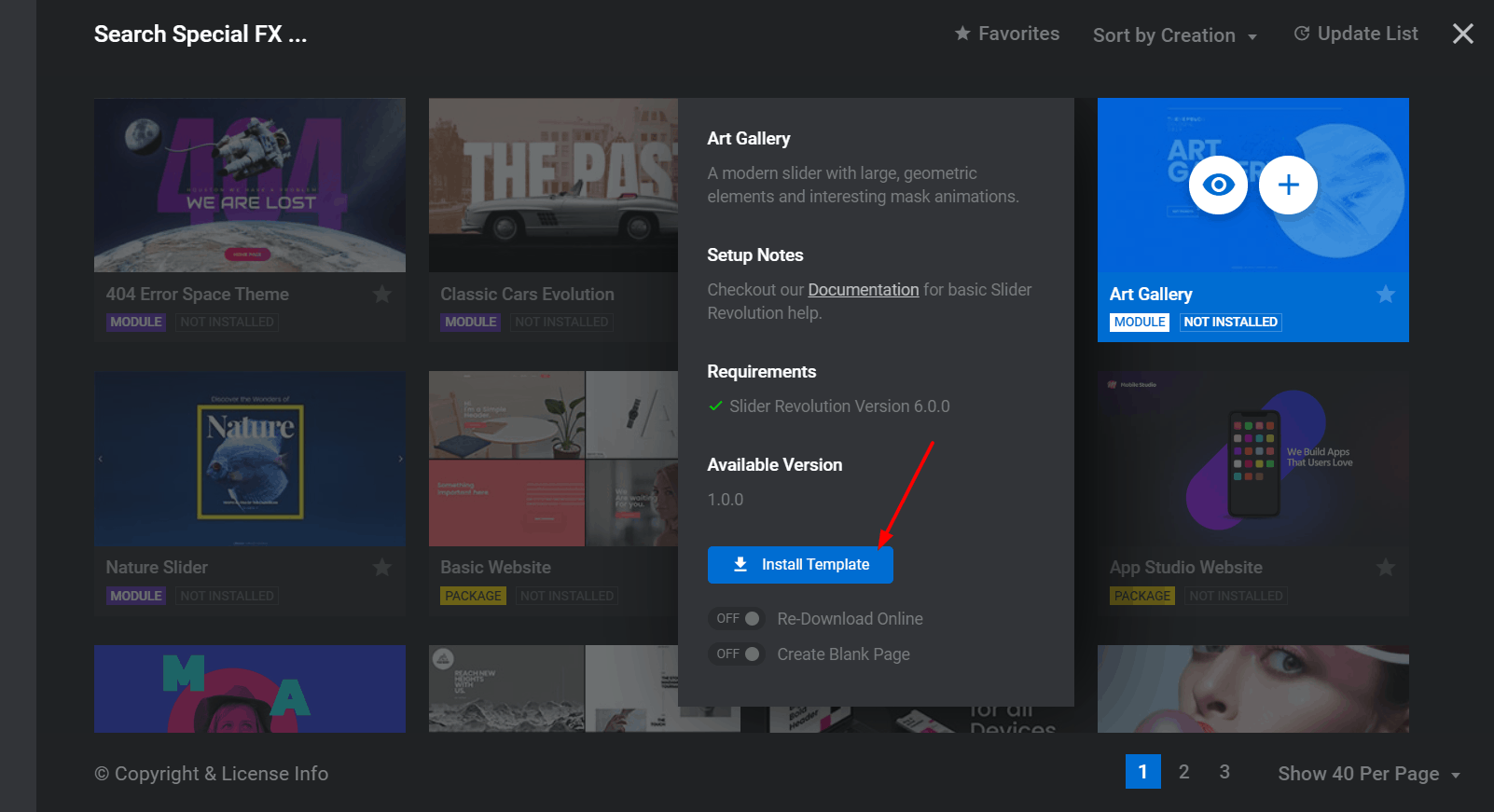 In the plugin's settings, you could see all the installed templates.

You can see more additional options by clicking on the down arrow.
The options are:
Embed.
Export.
HTML.
Duplicate.
Preview.
Tags.
Rename.
Delete.
If you need to see the live-action of the plugin, simply click on the preview button. Once you got clicked on that button, you can see the live preview on a pop-up window.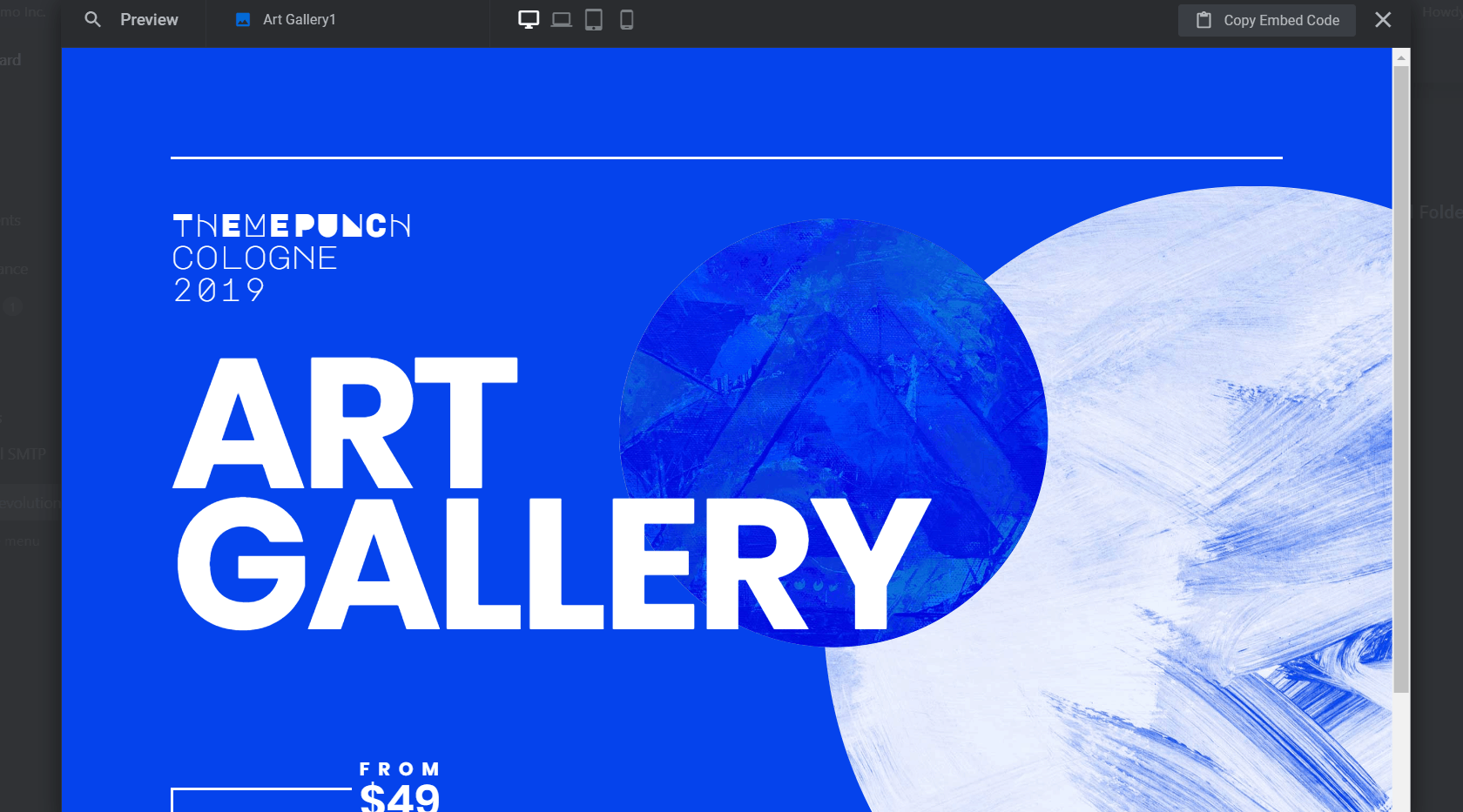 Looks cool, isn't it?
Now, let's move to the next part – embedding the slider to a page or post. In the template settings, you can see an option called Embed.
There, you can see ways for embedding the slider to a page or post.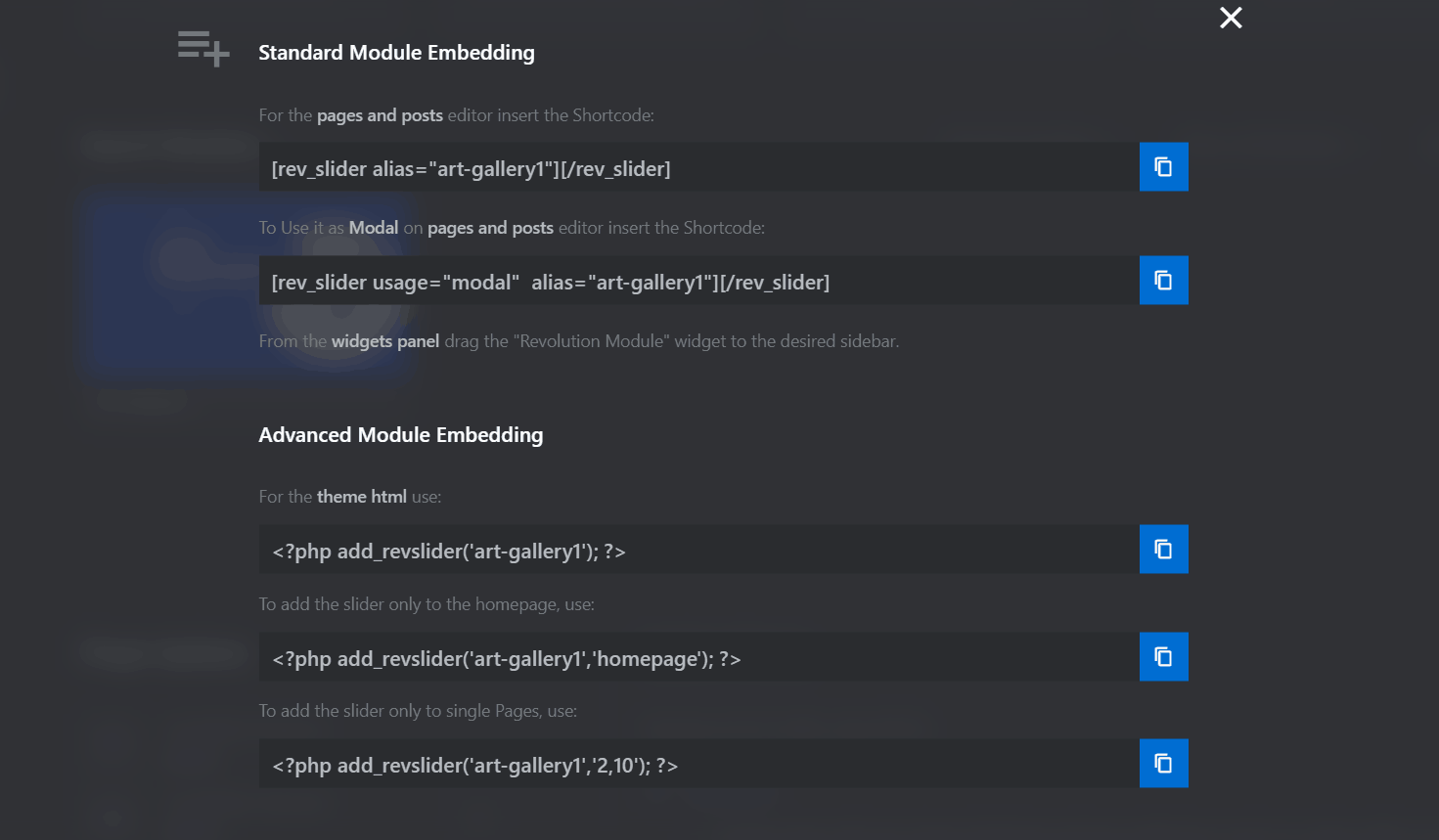 Using shortcode is the easiest way. All you need to do is, go to a page where you need to show the slider, paste the shortcode, update/ publish the page. It will be visible from the frontend.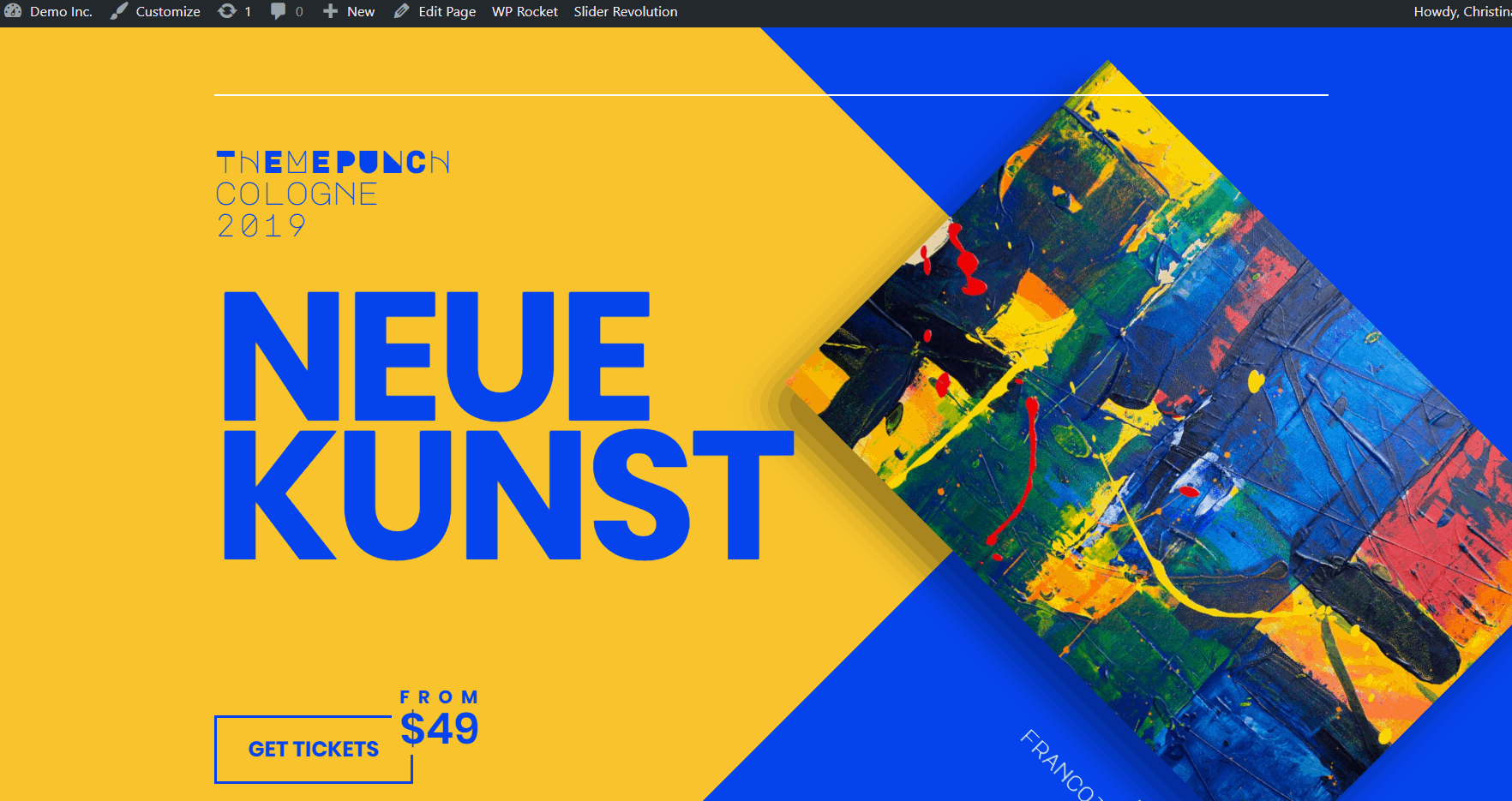 When you need to add a slider to the theme core, you can edit the theme files, add the PHP code. Well, beginner's couldn't do it properly. You need to know to code to make the changes.
You can also export the template.
You can download it locally.
You can always install unlimited templates for this blog. Also if you don't want any of them, there's an option for deleting the installed templates.
Manual Import
Just like the name says, when you need to import a slider to your website manually, this is the best option you need to try. From your device's local storage you can choose the file, upload it to your blog. It's pretty simple!
Add-ons
The add-ons section will be only available after you activating the premium product. By clicking there, a pop-up page will open up with all the famous add-ons for Slider Revolution.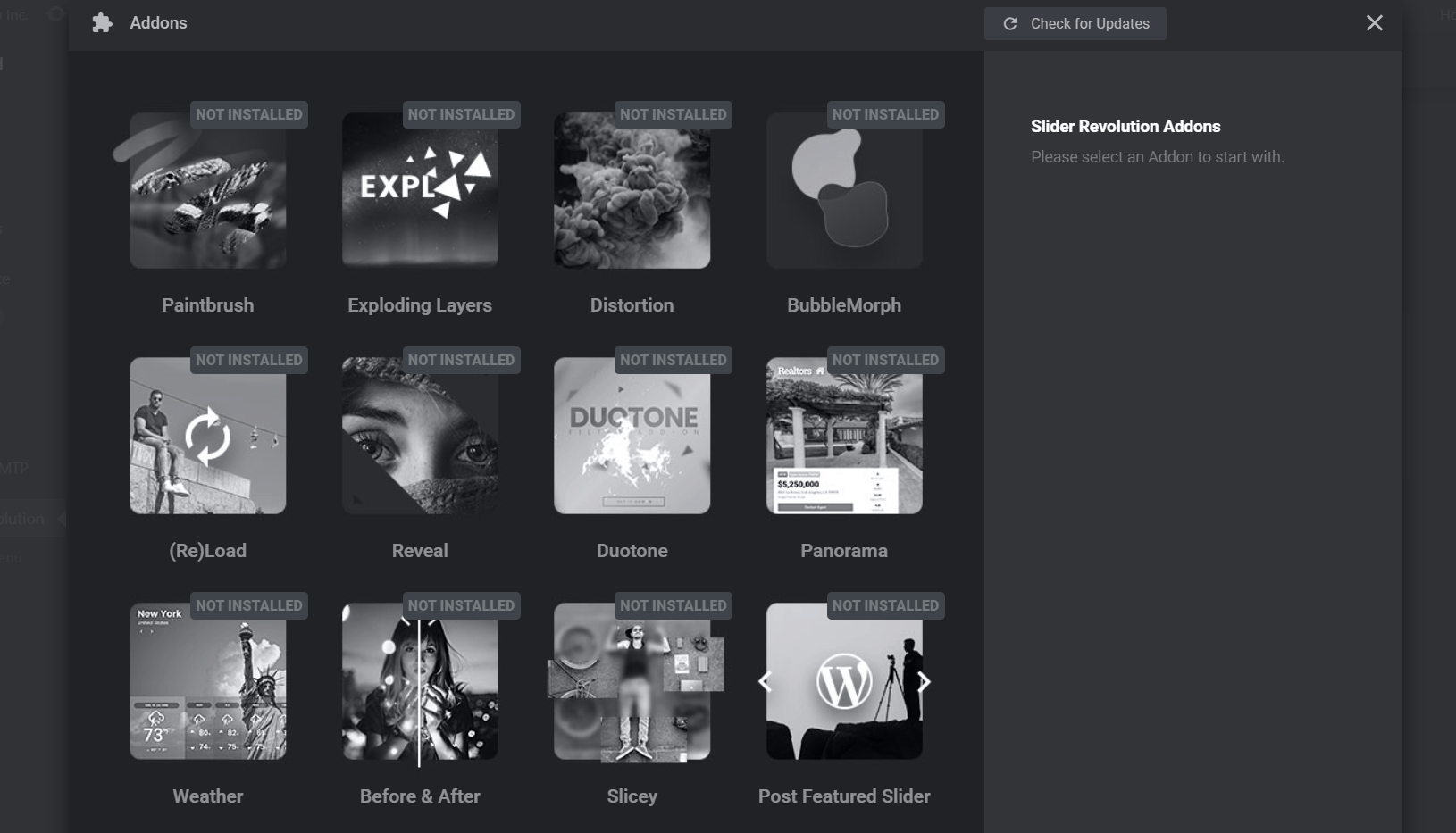 Our favorite add-ons from the list are:
Exploding Layers.
Distortion.
Reveal.
Typewriter Effect.
Before & After.
Post Featured Slider.
etc… Installing an add-on is also easy. For example, we are going to install the Typewriter add-on on our blog. So, click on the add-on.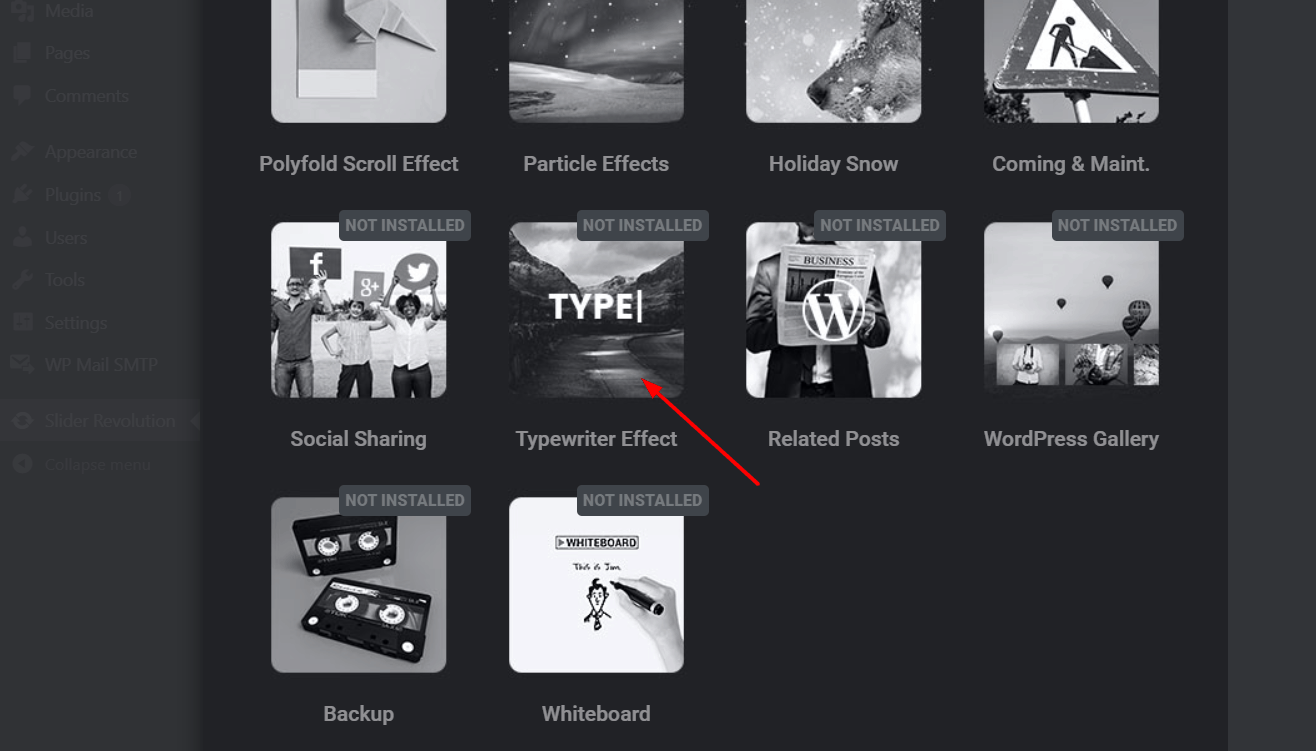 From the right side, you can easily install the add-on.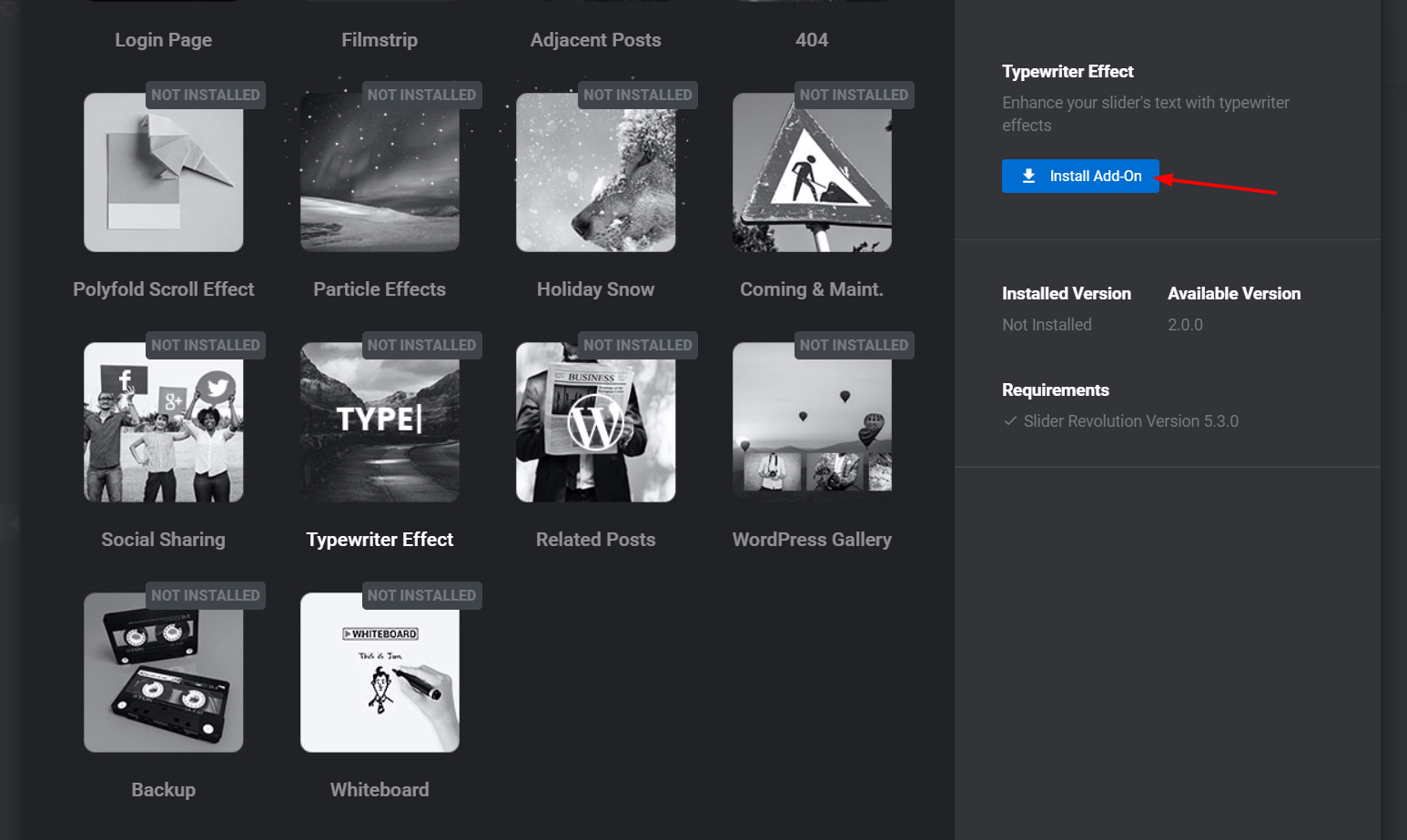 And just like installing the plugins, themes, simply activate the add-on.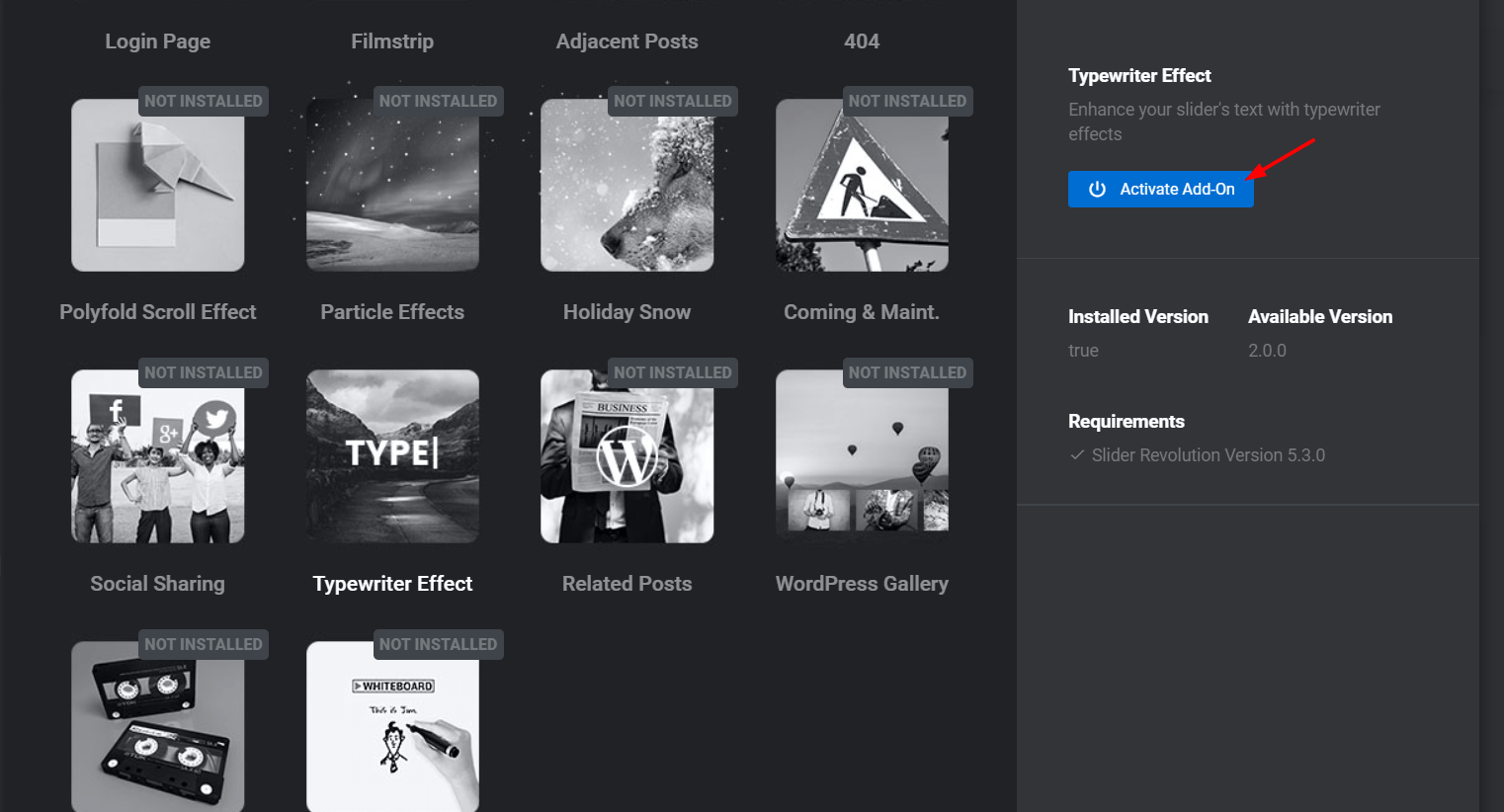 That's it. You can activate all add-ons available there or just specific ones. That's up to you.
Pricing
At this time, they offer 2 different pricing plans for the plugin.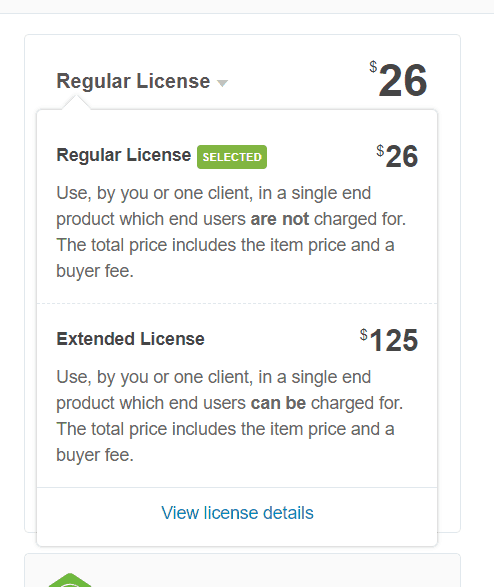 Regular License – $26.
Extended License – $125.
You can choose a plan according to your use. If you are purchasing Slider Revolution for your own personal blog or business website, the regular plan is the best choice for you. And if you are representing a WordPress theme development company and need to use Slider Revolution in the bundle, go for the extended license.
When you bundle Slider Revolution with a WordPress theme, the customer won't get automatic updates. He can only update the plugin when he gets a valid license key or you update the entire bundle.
So in case if you are using the plugin which is bundled with the theme, we recommend you purchase a copy.
Payments are made via credit card or PayPal. At this time, no bank transfer or Payoneer accepted (someone got asked this). Once you made the payment, the product will be available in your CodeCanyon downloads section.
Support and Updates
When you purchase the plugin, you will get 6 months of support from the official author team.
However, you can easily extend the support to 12 months by paying $7.88 extra.
Also, note that you will get the update for lifetime. All you need to do is register the product using the purchase key. And then you can easily update the plugin from the WordPress updates page. It's that simple.
Online Documentation and Tutorials
ThemePunch got an awesome documentation section.
The documentation section is categorized as:
FAQ.
Getting Started.
The Basics.
Module Settings.
Content.
Animation and Styling.
Links and Video.
Layer Actions.
Positioning Layers.
Add-ons Basics.
Frontend Add-ons.
Backend Add-ons.
Special Features.
Advanced Features.
etc…
In each section, you could see one on one articles for the configuration of the plugin. Those are crafted for beginners and can easily be done without messing up. If you still need help in configuration or customization, you can easily contact the support team.
They will assist you personally according to their support hours.
On top of that, ThemePunch also has a YouTube playlist where they will show you each configuration visually.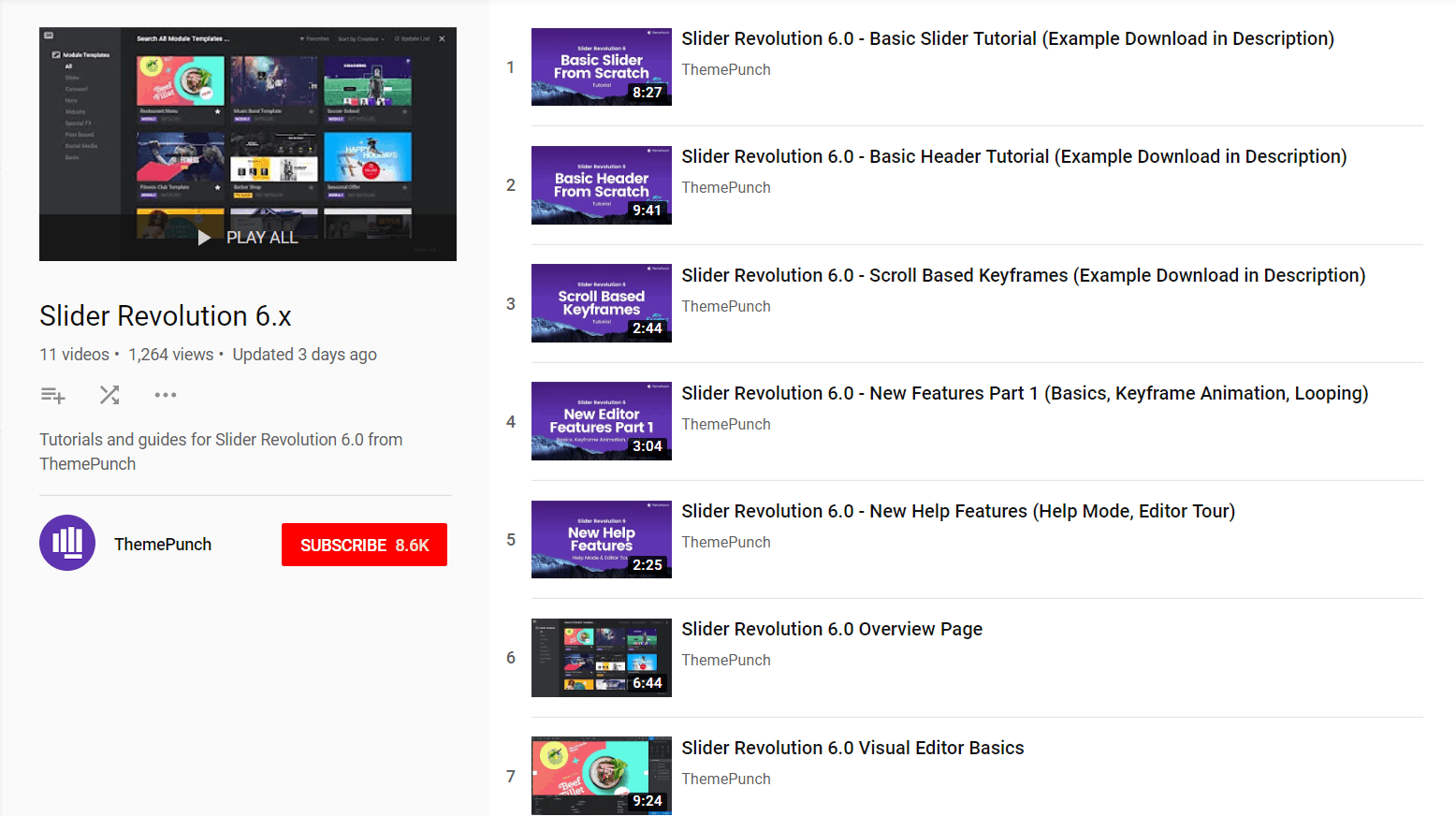 When you don't need to spend time reading content, I recommend you check out the playlist. Also if you are a Slider Revolution user, you might want to subscribe to their YouTube channel. The team will create more useful, awesome, easy to understand videos in the near future.
Slider Revolution is not just a typical slider plugin for WordPress. It is something more than that…
Get Started With Slider Revolution
You can purchase the latest version of Slider Revolution from below.
Get Started With Slider Revolution
We hope you found this Slider Revolution review helpful and enjoyed the read. If you did, please consider sharing this post with your friends and fellow bloggers on social media. It will probably help them to choose the best WordPress slider plugin.
Slider Revolution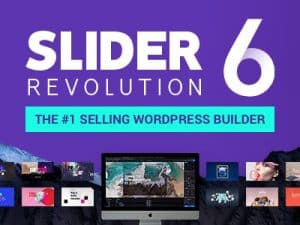 Product Name: Slider Revolution WordPress Plugin
Product Description: A fastest and top-selling WordPress slider plugin for WordPress. Thousands of copies are already sold and the war still continues...
Offer price: 26
Currency: USD
Availability: InStock
Features

Performance

Support

Ease of Use

Pricing
Summary
Here, we are going to share the complete Slider Revolution review. A plugin which will help you to create sliders inside WordPress. This review will show you all the Slider Revolution features!