If you are working with WordPress for a while, you know WPForms. WPForms is one of the best form builder plugins for WordPress. We are huge fans of them and use them on our contact page.
A few days back, we have published a post about WPForms – the WPForms review. We've explained everything there and you can learn more about the plugin from there.
Typeform is another form builder which is developed for business websites. If you are planning to buy Typeform, wait. Check this WPForms vs Typeform post and find out the best choice for you!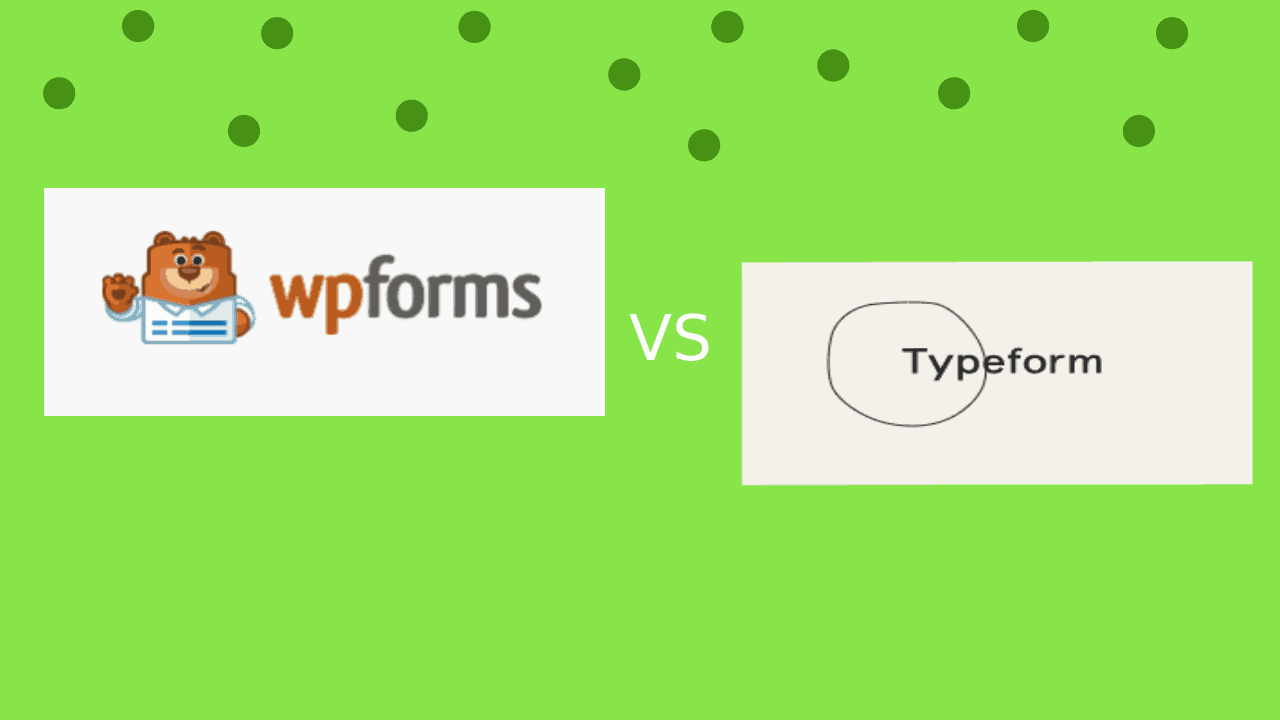 WPForms vs Typeform
When you search for a form builder plugin for your business website, you need to consider something. The plugin must be:
Affordable.
Compatible.
Easy to Use.
Supportive.
Comes With Documentation.
Also, we recommend you checking the current user reviews before making the purchase. It will help you to choose the right form builder plugin for your business website or personal blog.
Well, we researched for you! We have compared the main features of WPForms plugin and Typeform and here's what we found.
WPForms
WPForms is the best beginner-friendly drag and drop form builder plugin for WordPress. The plugin is a freemium one. This means they have a free version with some limitations and a premium version with advanced features. Right now, the WPForms Lite plugin got more than 2 million active installs!
Also, more than 3700 5 star ratings.
This tells that the WPForms is something most folks love.
Here's a sample intro video of the plugin.
Typeform
Folks use Typeform for creating surveys and forms. They are best at creating conversational forms without any headache.
But, no more… Thankfully, the WPForms team got introduced a new feature called Conversational Forms which will help you to create engaging forms/ surveys inside your WordPress dashboard!
Welcome Conversational Forms!
Conversational Forms = Fewer Form Abandonment.
Here's an example that is created by WPForms and their new add-on – conversational forms.
It is pretty simple to create conversational forms.
Ease of Use
WPForms is simple to use. Every beginner can use it without reading any guide or checking the documentation. They offer a drag and drop form builder with live preview section. So, you can see what you are building. There's no need to mess up with codes.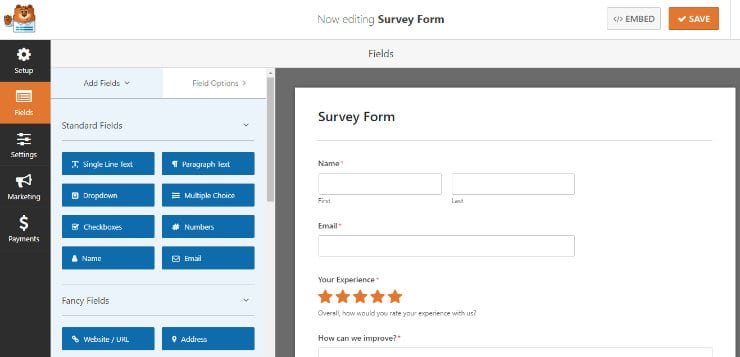 After creating the post, simply save it. They will give you a shortcode and you can use the shortcode on the pages, posts or CPTs to display the form!
For making the form like Typeform, enable the conversational forms add-on.
and you are good to go!
On the other hand, Typeform also got some pre-made templates which will help you to simply create your feedback forms, survey forms in a click. In that way, all you need is, change the questions and truly make it yours.
Well for creating contact forms, there are no other ways. You need to start it from scratch. Embedding is pretty hard for beginners. Once you created a form, they will give you an HTML code that needs to paste on the page where you need to display the form.
This can be a bit hard for beginners.
Winner: WPForms
Pricing
Both form builders got a free version. Let's look at the pricing of the WPForms plugin.
Right now, they have 4 pricing plans.
Basic – $39.50 a year – 1 Website.
Plus – $99.50 a year – 3 Websites.
Pro – $199.50 a year – 20 Websites.
Elite – $299.50 a year – Unlimited Websites.
If you are handing only one website, the Basic plan is good enough for you. Alright. Let's head over to the Typeforms' pricing.
They have 2 premium plans.
Pro – $30 a month/ $350 a year.
Pro+ – $59 a month/ $700 a year.
According to the WPForms pricing, this is very higher. Also, Typeforms' free plan got some limitations like they only allow 10 questions in a form and a 100 responses a month.
Right now, they are giving 50% on all their premium plans. Get it before the offer ends!
Winner: WPForms
Support
Thankfully, the team will support both free version plugin users and premium version plugin users. The WPForms lite plugin users will get support from the WordPress support forum.
Premium version users will get priority support via ticket. Just raise a ticket and let them know your issue. It can be a technical issue, a bug report, pre-sales question or anything you wanted to know. They will get back to you within 24 business hours.
When we talk about the support provided by Typeform, they will only answer the questions during their business hours -Monday to Friday. In evenings and weekends, you will not get the support you expected.
This is not good for most of us. If you got an issue that needs quick assistance, you are doomed.
Winner: WPForms
Documentation
WPForms got an awesome documentation section.
They got categorized the articles like:
Getting Started.
Functionality.
Styling.
Extending.
Add-ons.
Account Management.
I am pretty sure you will find almost everything from there, If you still need help, you can contact the WPForms support team and they will personally assist you!
Saying about Typeform, they also have a dedicated section for the documentation. You can find all the documentation, DIY guides from the Typeforms' help center.
Winner: Tie
Our Review
From above, you could see the difference between the WPForms and Typeform. If you purchase the WPForms plugin, you will get something can create any type of forms for your business. The folks offer 30-days money back guarantee so you are safe to try it!
For our users, we highly recommend WPForms.
| WPForms vs Typeform Comparison | | | |
| --- | --- | --- | --- |
| Features | WPForms | Typeform | Winner |
| Usage | Easy | Complex | WPForms |
| Pricing | $39.50 a year | $350 a year | WPForms |
| Support | Awesome | Normal | WPForms |
| Docs | Detailed | Detailed | Tie |
| Recommended Plugin: | WPForms | | |
Get Started With WPForms
You can see the discounted price of WPForms from below.
We hope you found WPForms vs Typeform post helpful and enjoyed the read. If you did, please consider sharing it with your friends and fellow bloggers on social media.
Looking for a lead generation plugin for your business? Check out OptinMonster.
WPForms vs Typeform
Product Name: WPForms
Product Description: WPForms - the best, affordable, easy to use and beginner friendly form builder plugin. Beginners can try their Lite version to make sure that the plugin is apt for you!
Offer price: 39.50
Currency: USD
Availability: InStock
Features

Performance

Support

Ease of Use

Pricing
Summary
WPForms is known as the best form builder plugin for WordPress. With over 2 million active installs, they rule the market. In this post, we are going to show you the complete comparison of WForms and Typeform.