Planning to host your WordPress blog? If you are looking for the best WordPress hosting and web hosting company, we will always recommend GreenGeeks. It is one of the top, famous WordPress hosting company. We have already added the comparison posts GreenGeeks vs Bluehost and GreenGeeks vs GoDaddy.
Well, one of the other famous WordPress hosting company is A2 Hosting. A few of our users got asked for a GreenGeeks vs A2 Hosting post. And in this post, we are going to add a complete comparison of GreenGeeks and A2 Hosting.
From here, you can choose the best web hosting company for your blog!
GreenGeeks vs A2 Hosting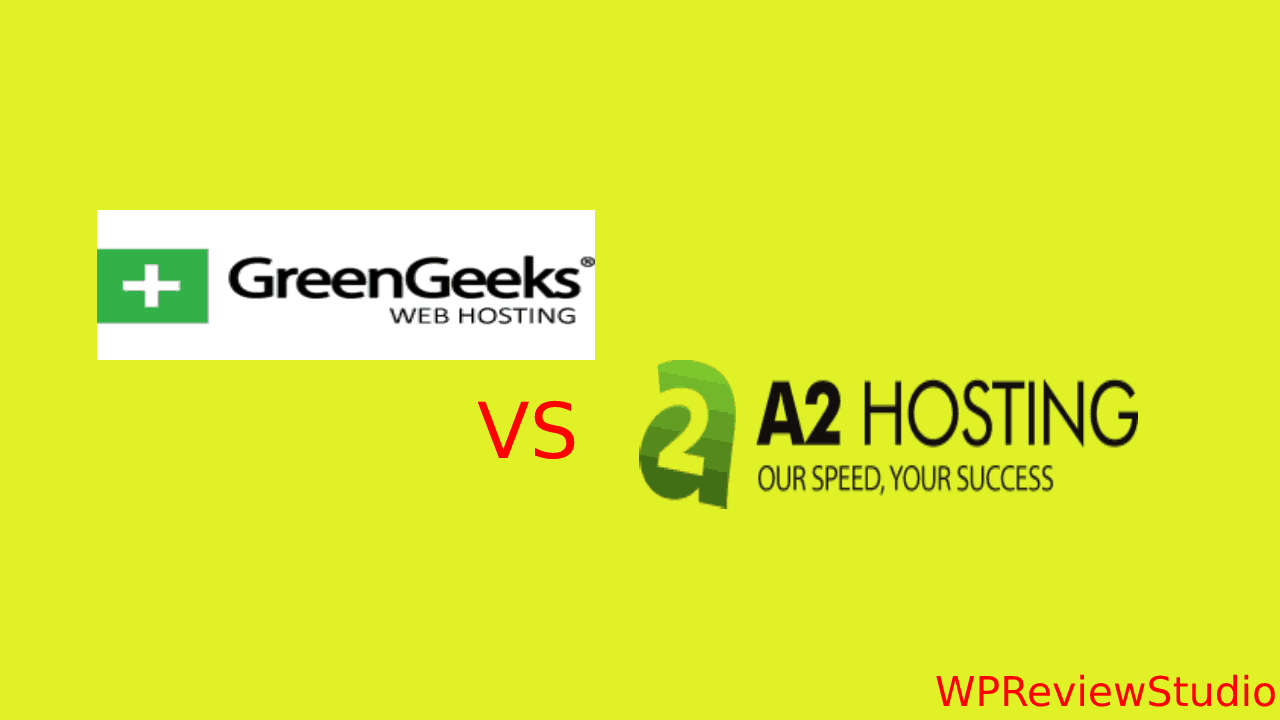 When you choose a web hosting company, make sure that the company is good enough. Hear what existing customers say, look the resources offered by the company, security features, and server uptime.
Wondering how GreenGeeks and A2 Hosting serves their customers? We have done the research for you! and we are going to share it here!
What Is GreenGeeks
GreenGeeks started its business in 2008. Also, it is one of the tops and best-recommended WordPress hosting for bloggers. With 5 data centers, free SSL certificate, free .com domain name, etc, GreenGreeks is a notable name in the industry.
Need to know more about their service? Check out our GreenGeeks review.
What Is A2 Hosting
A2 Hosting started its business in 2003. It is one of the powerful WordPress hostings which got maximum optimizations. The Turbo server offered by A2 Hosting is best for improving the overall page load time. On top of that, it also offers features like a staging area for testing new codes and products!
Pricing
Let's start with the shared hosting price. If you check it, you could see that the plans and pricing of GreenGeeks are affordable.
They have 3 premium plans available.
Starter – $2.95/ month.
Pro – $5.95/ month.
Premium – $22.95/ month.
In all plans, you will get unlimited resources. There will be no limitations.
Alright. Let's see the plans of A2 Hosting.
They also got 3 premium plans.
Lite – $3.92/ month.
Swift – $4.90/ month.
Turbo – $9.31/ month.
It's also cheap. But the GreenGeeks offer more affordable hosting for the clients.
Winner: GreenGeeks
Performance
Most of us love having a faster website. Using a caching plugin will make the website faster. But the hosting company also holds a major part in the website's speed.
Using the GTmetrix tool, we have run a test. In that test, the website got fully loaded in 0.8 seconds. And after that, we have run a test on a website which is hosted in A2 Hosting.
In that test, the website loaded in 1.6 seconds. We have chosen Canada as the test location. Well, some locations in the Pingdom tool gives the best results for the GreenGeeks (0.4 seconds).
Winner: GreenGeeks
Security
Security is a crucial thing in blogging and developing. There are so many WordPress security plugins and solutions are available for protecting our blog.
Well, the hosting got some features you need to consider!
In the GreenGeeks hosting, you will get server-side scanning, account isolation, system administrator file monitoring and almost every security features. A hacker couldn't infect any of your website files in this way.
if you are hosting your blog in GreenGeeks, you are in safe hands.
A2 Hosting recently got a hacking attempt and they are still working hard to fix the issue. Their windows server hosting got infected and most customers are pissed off. When running a million dollar company, it is not good.
Winner: GreenGeeks
Data Centers
GreenGeeks got data centers on:
Chicago.
Pheonix.
Toronto.
Amsterdam.
and the team is working hard to bring new DCs to their orbit.
On the other hand, A2 Hosting has data centers on:
Michigan.
Arizona.
Singapore.
Well, choosing a DC which is near to your user's location will help you to the server the website faster. There are so many CDNs are available here to help.
Using popular CDNs like Cloudflare will serve the website files faster from the user's nearest data center. In the Cloudflare orbit, there are more than 150 DCs are available!
Winner: GreenGeeks
Server Resources
Got any limits on the storage space? bandwidth? email accounts or MySQL databases?
You may want to consider using a web hosting company which will not limit the resources. Right now, GreenGeeks offers unlimited resources for their clients.
Stop worrying about disk space usage and bandwidth. You can focus on your work.
On the other hand, A2 Hosting allows unlimited disk space and bandwidth. But in the cheap shared hosting plans, they will limit the MySQL databases.
So in the LITE plan which is offered by A2 Hosting, we could create only 5 WordPress blogs. If you have any static website which doesn't need any MySQL databases, you could create unlimited websites.
Winner: GreenGeeks
SSL Certificates
Google got said that SSL certificates are a small ranking factor. It will increase the trust and your customer's data will be secure. We highly recommend using SSL certificates on eCommerce businesses.
GreenGeeks and A2 Hosting will give you a free SSL certificate from Let's Encrypt Authority. The certificate will be issued within 30 minutes of your hosting account purchase.
Also, it is free for the lifetime. Renews automatically. You don't need to do anything.
Winner: Tie
Powered By SSDs
GreenGeeks and A2 Hosting use SSDs (Solid State Drives) for storing the data. SSDs will serve the files 10 times faster than HDDs!
Improved page loading time!
Winner: Tie
Unlimited Domain Hosting
Need to host more than 1 domain? With a single web hosting plan, you will be able to do it. Both GreenGeeks and A2 Hosting supports unlimited domain hosting. You will be able to create unlimited websites just by using only one hosting plan!
Winner: Tie
Backups
Without using backup plugins like BackupBuddy, you can simply create full website backup from the cPanel. The process is automated. The server will take care of the complete backups in GreenGeeks and A2 Hosting.
The daily backups will help you to move your website to a new server or restore it if anything wrong happens. You don't need to pay additional for these backups. Those are included in the hosting plan.
Winner: Tie
Auto Updates
Running a WordPress blog?
You know that we may want to keep the WordPress core, themes and plugins up to date for avoiding security issues and conflicts with other plugins. Normally, most of us are doing this manually.
Well, there are some managed WordPress hosting companies are offering automatic WordPress core, themes and plugin updates. You don't need to do anything for this. The server will take care of it.
In GreenGeeks and A2 Hosting, you can enable this feature. No matter if you didn't log in to your blog for updating those items!
Winner: Tie
Caching
WP Rocket is one of the best and famous premium WordPress caching plugin. We are using this plugin and the perfmatters performance plugin on our blog for making the blog faster.
And on top of that, some web hosting companies will limit the caching plugins on their server and add inbuilt caching technology.
GreenGeeks got an inbuilt caching technology called PowerCacher. On the other hand, A2 Hosting got something called Turbo.
The thing is, you will get the PowerCacher technology even in their cheapest shared hosting plan. But in A2 Hosting, you need the Turbo hosting plan!
Winner: GreenGeeks
Website Applications
Using the one-click installer, you can install almost all web applications in your server. We highly recommend this feature for every beginner. It will save a lot of time and headache.
By logging in to the cPanel of GreenGeeks and A2 Hosting, you can install more than 120 website applications. Don't need to install it manually.
Winner: Tie
Money Back Guarantee
Not happy with current hosting? GreenGeeks and A2 Hosting offer 30-days money back guarantee. When you are not happy with the hosting, you could get your complete money back!
There will be no issues! Just raise a ticket and let them know.
Winner: Tie
Quick Support
GreenGeeks and A2 Hosting support their current users via live chat, support tickets, and phone. When you have a simple pre-sale question, you could simply use the live chat. A sales expert will help you to pick the right plan according to your requirements.
Also, for technical issues, you need to use the ticketing system. Both web hosting companies got an awesome support team and they will get back to you according to their business hours.
Winner: Tie
Free Migration
Got an existing website? Need to migrate it to GreenGeeks or A2 Hosting? They do offer free website migrations. You don't need to create backups or anything. Once you signed up for a hosting account, raise a ticket and let them know.
Probably an expert will get back to you as soon as possible. You'll need to share your current cPanel credentials. Once you did that, they will do the necessary things, move the website to the new server.
In most cases, there will be no downtimes.
Winner: Tie
Conclusion
One of my friend's website got affected in the last A2 Hosting issue. A2 Hosting is still a good web hosting company to host a website. But, for our users, we always recommend GreenGeeks.
| Comparing GreenGeeks and A2 Hosting | | | |
| --- | --- | --- | --- |
| Features | GreenGeeks | A2 Hosting | Winner |
| Pricing | $2.95 a month | $3.92 a month | GreenGeeks |
| Performance | 0.8 Seconds | 1.6 Seconds | GreenGeeks |
| Security | Excellent | Average | GreenGeeks |
| Datacenters | 5 | 3 | GreenGeeks |
| Server Resources | Unlimited | Limited | GreenGeeks |
| SSL Certificates | Free | Free | Tie |
| SSD | Yes | Yes | Tie |
| Domains Usage | Unlimited | Unlimites | Tie |
| Backups | Inbuilt | Inbuilt | Tie |
| Auto Updates | Inbuilt | Inbuilt | Tie |
| Caching | PowerCacher | Turbo | GreenGeeks |
| Web Applications | One-Click Installer | One-Click Installer | Tie |
| Support | Awesome | Awesome | Tie |
| Migration | Free | Free | Tie |
| Link | Go To GreenGeeks | Go To A2 Hosting | |
| Recommended Hosting: | GreenGeeks | | |
Get Started With GreenGeeks
You can see the updated plans and pricing of GreenGeeks from below.
Have you found this post helpful? If you did, please consider sharing this post with your friends and fellow bloggers on social media.
GreenGeeks
Features

Performance

Support

Ease of Use

Pricing
Summary
One of the famous and recommended WordPress hosting provider. GreenGeeks is used by so many famous bloggers and web developers for hosting their business blog. Let's see why the choose GreenGeeks over A2 Hosting!