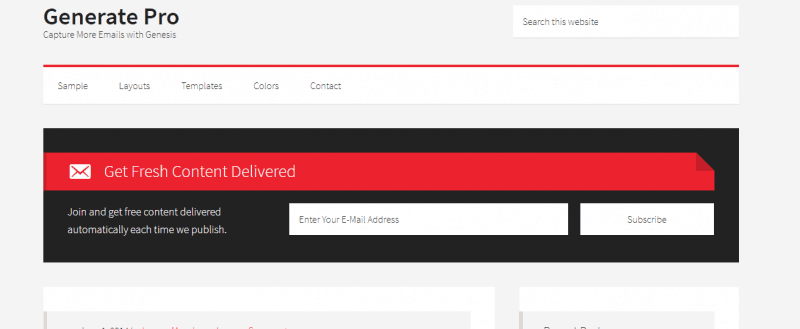 There are so many plugins are available out there like OptinMonster to help us with the lead generation in WordPress. Well, we could do more than that!
Using a theme that is specially made for a lead generation would help you. And there are so many themes are out there for that purpose. Well, for our users, we will give the best one. You know that we are huge fans of the Genesis Framework.
So, we highly recommend you use the Genesis Framework and a child theme on your blog. In this post, we are going to introduce you to one theme called Generate Pro. You can read the complete StudioPress Generate Pro review from here.
StudioPress Generate Pro Review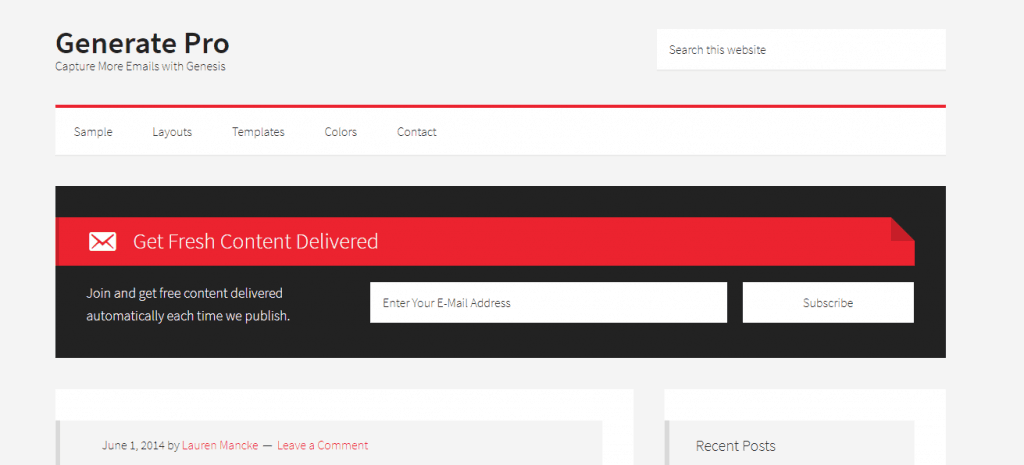 The Generate Pro is one of the best selling WordPress child themes for the Genesis Framework on the StudioPress. There are so many folks are already using the theme on their blog and we are also a huge fan of the theme.
It is specially built for increasing your email signups. All you need to do is, simply add the newsletter widgets in your website's header area and the sidebar with some catchy text. No premium plugins needed. The free email option plugin from StudioPress – Genesis eNews Extended will do the job.
NOTE: Generate Pro is the theme that we use here on our blog with some custom modifications. Let's see why we use this on our blog.
Installation and Activation
You can install this theme using an FTP client, or file manager (cPanel) or right from your WordPress dashboard. The WordPress dashboard is the simplest way to install the theme.
But remember one thing. Always install the parent theme – Genesis Framework before installing the child themes. In my case, I have already installed the parent theme on my blog.
After that, simply install the Generate Pro theme on your website.
Once you got installed the theme, simply activate it.
You are done! Now, you have successfully activated the theme and it must reflect on the website's front end.
Generate Pro Features
Alright. The installation seems pretty simple. Now, let's see what are the main features of the theme. The features you will love!
Genesis Framework Included
The parent theme – Genesis Framework costs $55.95 (one-time). When you purchase this Generate Pro theme, you will get the Genesis Framework included in this theme. So, you don't need to purchase it separately.
Speed Optimized
GTmetrix is one of our favorite tools for testing the website's speed from different locations. So, we have run a speed test on the demo Generate Pro theme.
The result is below.
You can see the website got loaded in 1.4 seconds. If you properly optimize the website using a caching plugin like WP Rocket, a performance plugin like perfmatters and a CDN, you can get the better result.
The demo installation is not an optimized one for speed. Anyway, the theme loads faster.
NOTE: If you are planning to purchase the WP Rocket plugin, we recommend you check out our WP Rocket coupon. It will give you a discount of 20% to 50%!
SEO Ready
After writing content, all we need to do is get traffic to those, convert those traffic to sales or revenue. There are so many factors that are out there which help you in getting traffic to your site like backlinks, DA, content, website speed, etc…
The theme comes with a lightweight and optimized code which will help you in ranking higher on search engines. All you need now is, write quality content and consider building backlinks. Your content will rank on page 1 for the keyword!
Gutenberg Optimized
Version 5.0 of WordPress comes with a brand new editing experience called the Gutenberg editor. The whole editor got changed to a brand new editor. Well, there were some compatibility issues with the themes and plugins and the Gutenberg editor.
Thankfully, the Generate Pro is optimized for Gutenberg. You will not get any issues using the theme and the Gutenberg editor.
7 Widget Areas
The Generate Pro theme comes with 7 widget areas. They are:
Header Right.
Primary Sidebar.
Home Featured.
Footer 1.
" 2.
" 3.
After Entry.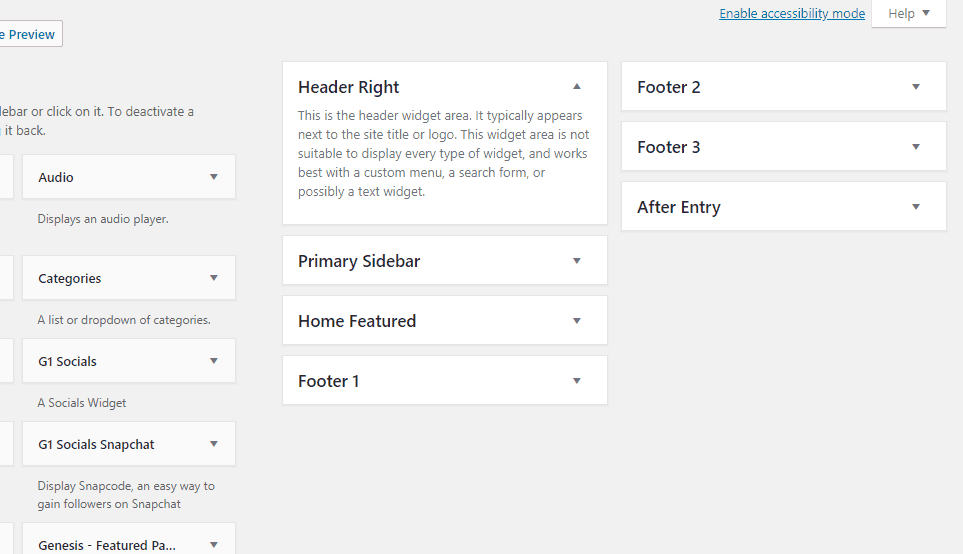 If you are running a business website, you could add CTA buttons and banners to promote your business in these fields. Well, if you are running a blog to make money from Media.net or Google AdSense, you can add your banner ads.
AdSense Auto Ads Optimized
AdSense got an awesome monetization method called the Auto Ads. When you want to show auto ads on your website, all you need to do is, simply enable auto ads on your AdSense account, place the auto ads code in your website's header.
If you are using the Genesis Framework latest version, you can show the Auto Ads by entering your publisher ID.

Once you entered your publisher ID, simply save the theme settings. And within 30 minutes, your website will start serving ads. It's highly recommended if you are using AdSense to monetize your website.
3 Layout Options
Normally, the Genesis Framework comes with 6 layout options. When we install child themes like Generate Pro and Aspire Pro, the layouts will get overridden.
In the Generate Pro theme, you will get 3 layout options.
Content – Sidebar.
Sidebar – Content.
Full-Width Content.
You can choose the default layout settings from here. But customizable. When you write single posts and pages, you can change the layout settings from there.
For example, we are using the Content – Sidebar layout by default on our blog.
Generate Pro Pricing
They have 2 pricing options.
Single Theme – $99.95.
Pro Plus – $499.95.
If you just want the Generate Pro theme only, you just need the single theme plan. When you represent an agency that develops WordPress websites for clients, you may want to consider purchasing the Pro Plan.
The Pro Plan will give you access to all their current themes and future WordPress themes.
Support and Updates
The fee is just for one-time. There is no renewal fee for the Genesis Framework. Saying about support, when you purchase the heme, you will get access to their detailed documentation and support section. you can see the docs section to do anything with the theme.
If you got any technical issues, you need to open a support ticket. The support team will get back to you within 24 business hours.
Updates are for a lifetime. When a newer version of the Genesis Framework releases, you will get the notification in your WordPress admin. So, you could simply do it from there!
Our Review
From above, you could see that the features of the Generate Pro theme are awesome. But, for beginners, the price is a bit high. Well, trust me. It's worth. We will give 4.9 stars out of 5 for the theme.
Get Started With Generate Pro
You can purchase the latest version of the Generate Pro theme from below.
We hope you found this StudioPress Generate Pro review helpful and enjoyed the read. If you did, please consider sharing this post with your friends and fellow bloggers on social media. If you are looking for another well-optimized theme, check out the GeneratePress.
Our GeneratePress theme review will tell you more about it.
Generate Pro Review
Product Name: Generate Pro
Product Description: Generate Pro is one of the best Genesis child themes out there. It will help you to generate leads from your website without using any additional plugins!
Offer price: 99.95
Currency: USD
Availability: InStock
Features

Performance

Support

Ease of Use

Pricing
Summary
By using the Generate Pro theme, you can create an awesome Genesis website on the WordPress blogging platform. if you are planning to purchase the plugin, see our Generate pro review from here. We have covered all the theme features!