Looking for a form builder plugin for WordPress? I am pretty sure that you will see a lot of free and premium form builder plugins on the internet. Well for our users, we recommend the best one.
and guess what… We have got one for you. The Formidable Forms. Looking for the Formidable Forms review? we have got you covered! In this post, we are going to share the plugins' complete features, pricing and explains how you can start building forms right away!
Qualities of a Good Form Builder Plugin…
If you are planning to choose a form builder plugin, consider these in your mind. The form builder must be
Beginner Friendly.
Drag-and-Drop.
Easy Form Creation.
Affordable.
Integrations.
Supportive.
Comes With Docs.
and on top of that, you may want to see the current user reviews. However, we researched for you. Here's what we found about the Formidable Forms plugin.
Is Formidable Forms Plugin Free?
Formidable Forms is a freemium WordPress plugin. This means the plugin got a free version one called Formidable Forms Lite.
There, you can see that the folks are updating the plugin recently and currently there are more than 200,000 active installations!
Also, the Pro version of Formidable Forms is awesome. It is used by so many business websites for creating forms inside their blog or website.
Formidable Forms Review
There are so many other form builder plugins are available. However, what makes Formidable Forms the best one for creating forms? Probably their features, integrations.
Well, let's get to the Formidable Forms review.
With Formidable Forms…
By using Formidable Forms, you can create any type of form that you need. Some of the great examples are
Simple Contact Forms.
Donation Forms.
Car Payment Forms.
Registration Forms.
WooCommerce Forms.
Quiz Forms.
Calculator Forms.
Graph Reports.
Developer Ready Forms.
and much more…
You could do more than this using the Formidable Forms.
Features of Formidable Forms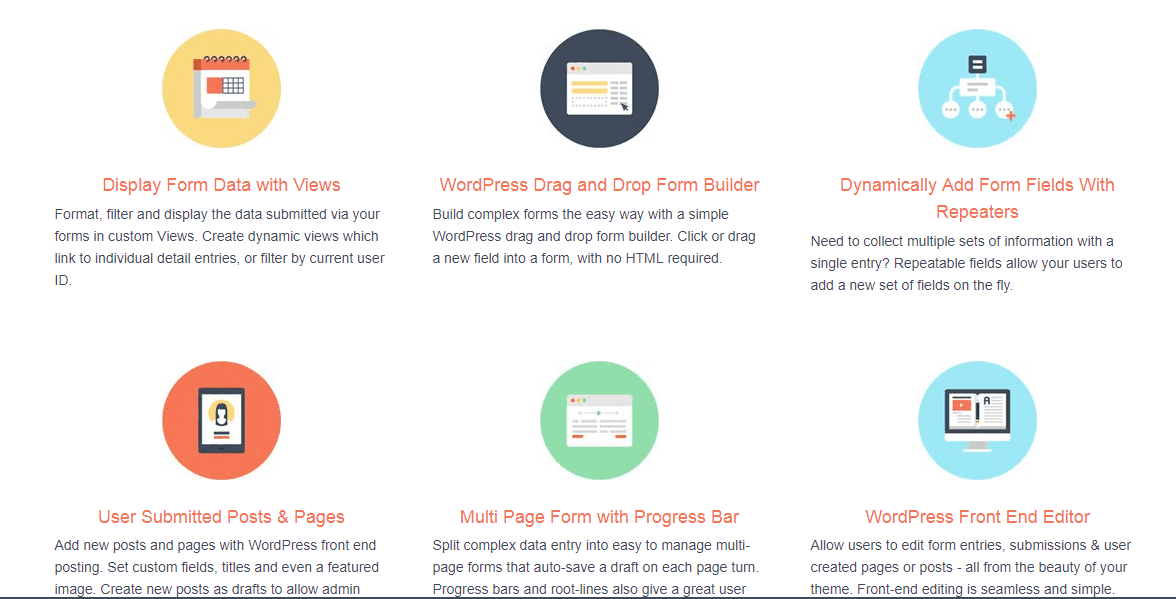 Check out the awesome, powerful features offered by Formidable Forms.
Drag-and-Drop Form Builder

Formidable Forms offers a distraction-free, beginner-friendly form building experience. Most beginners don't know to code for creating contact forms. When we use the code, we need HTML for building the form and CSS for styling it.
However, this plugin makes things simple.
Using the drag and drop form builder, you can create any type of form that you need. Just pick up elements and drop them in the form builder.
Once you are completed, simply save it!
Forms With Graphs
We will normally rely on software like Adobe Photoshop, services like Photopea, Canva for creating graphs for our website.
Thankfully, no more additional services!
Formidable Forms comes with an inbuilt graph maker which will help us to make:
Column Graphs.
Horizontal Graphs.
Histograms.
Pie Charts.
Donut Charts.
Line Graphs.
Area Charts.
Scatter Graphs.
and much more…
You will get this with the core Formidable Forms premium plugin.
File Uploads
When you handle a service which offers to troubleshoot a specific software, this feature is essential for you. Like the feature's name says, this will allow us to upload files through the forms!
The normal way is, upload the file to third-party cloud storage like Google Drive or Dropbox, share the link through the form. It takes a while.
Right now, you could do this through your forms. All your shared media files are encrypted and not publically accessible via any others.
Double Check Form Fields
Are your website visitors filling their information correctly? Sometimes, there will be spelling mistakes while filling up a form.
The core Formidable Forms premium plugin offers a feature that will double-check the form fields. By using it, you could verify the user's email, entered password, etc.
Must need this for a website that offers registrations and memberships.
Email Autoresponder
Ready to take your business to the next level?
When you are running a business blog, probably you need to respond to your website visitors almost quickly. This is how we can convert those website visitors to customers or clients.
Using the Formidable Forms, you can set up an autoresponder that will reply to all entries almost instantly. This is an awesome feature and just needs one for every business blog.
Some website hosting companies are always offering something like this through their cPanel. You don't want to use both. Use anyone. We recommend you set up autoresponder via the plugin.
Mobile Responsive
All the forms are responsive. Not all your website visitors are using a desktop for browsing. The mobile traffic is increasing day by day and they may be using a mobile device for surfing.
If you check your Google Analytics report directly or via MonsterInsights, you could see the mobile traffic on your website.
However, using a responsive form is essential due to this. In this case, you can give a better user experience.
Form Templates

Creating forms from scratch may take so much time. If you are in a burry, there's a forms pack available called form templates.
There, you will get almost all type of templates which you need. Just import it to your forms and you are ready to move on!
Publish it!
Import and Export
This means backup and restores the forms, settings to another website.
Normally, we will rely on plugins like BackupBuddy for creating complete website backups. However, when we need to move the forms to another website, we could use this option.
This option comes with the core WordPress plugin. Importing and exporting are done via XML files.
Entry Management
When a user submits an entry, we need to check the admin email address for viewing the message. However, that's the old way.
Now, we can manage all entries from the WordPress dashboard. This includes searching for an entry, updating it or deleting it.
Probably it saves a lot of time.
Invisible Spam Protection
We all hate spam. Most folks use the contact forms to promote their product, share something to us, etc… Well, if we are using Formidable Forms on the website, we can fix this!
The plugin offers something called Invisible Spam Protection which will help you to eliminate all spam submissions from your contact forms.
etc…
Integrations
Integrating the forms with third-party apps, CRM will help you to build powerful forms and making the existing forms more powerful. Thankfully, Formidable Forms offers so many integrations with apps. Some of the famous integrations are
Stripe.
PayPal.
MailChimp.
Zapier.
WPML.
WooCommerce.
Polylang.
Twillo.
Authorize.net.
MailPoet.
HubSpot.
AWeber.
and much more…
The team is working hard to bring new integrations to the core plugin. We can expect more awesome features in the upcoming updates.
Pricing
At this time, they do offer 4 premium plans.
Personal – $49 a year – 1 Website License.
Creator – $99 a year – 3 Websites License.
Business – $199 a year – 15 Websites License.
Elite – $399 a year – 20 Websites License.
You need to choose a plan according to your use. When you have only 1 WordPress blog and need the basic form features, the personal plan is a good choice for you.
The higher plans will give you more advanced features. You could choose them if you want.
Support
Every premium plans come with 1-year of support. When you got a valid premium account, you will probably get priority support from the team. According to their support hours. Their support team is pure love and your issues will get fixed almost instantly.
The free version used will also get support. Lite plugin support is handled via the plugins' support forum.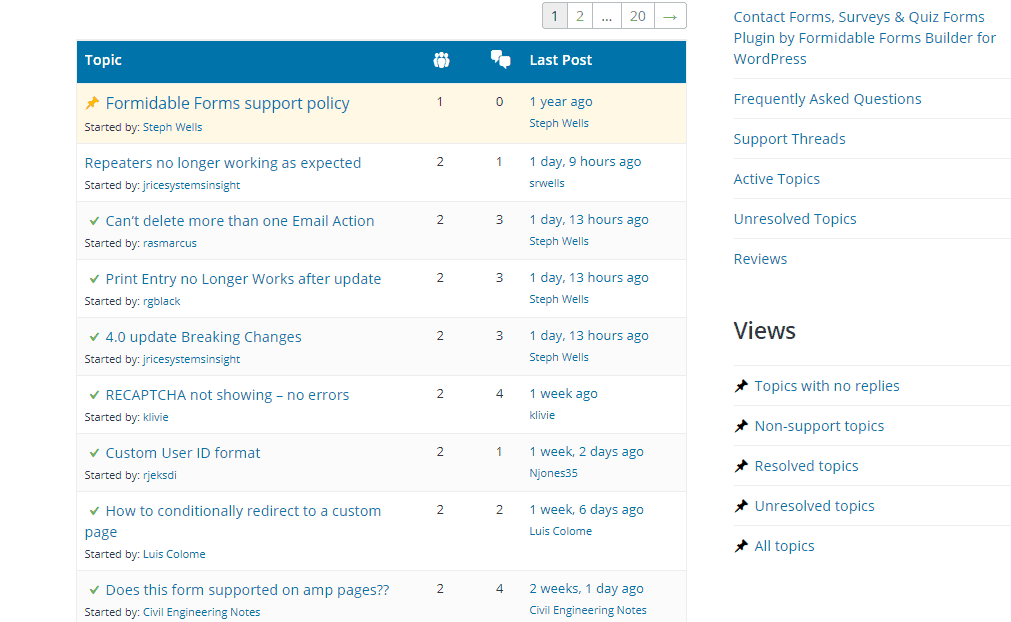 The support team is already active on the forums and they will respond to all your topics within 24 business hours.
Documentation
They have categorized the documentation section like:
Installation and Getting Started.
Account Management.
Forms. Entries.
Views. Styles.
Importing and Exporting.
Add-ons.
Extensions.
You can find almost all docs there. If you still having trouble, get in touch with the support team. They will help you to fix every issue.
Formidable Forms Coupon
We work hard to bring new coupons in our deals section. But currently, there are no coupons are available for Formidable Forms. But the thing is, they are already giving  $50 discount on their premium plans!
It is the right time to choose Formidable Forms.
Get Started With Formidable Forms
You can purchase the premium version of Formidable Forms from below.
Get Started With Formidable Forms
Formidable Forms Alternatives
If you are looking for other alternatives for the Formidable Forms plugin, check out
We hope you found this Formidable Forms review post interesting and helpful. If you did, please consider sharing this Formidable Forms review with your friends and fellow bloggers on social media.
It will probably help them to get the best WordPress form builder plugin.
Formidable Forms Review
Features

Performance

Support

Ease of Use

Pricing
Summary
Formidable Forms is an advanced WordPress form builder plugin with lots of features. In this post, we are going to share the complete review of Formidable Forms plugin.