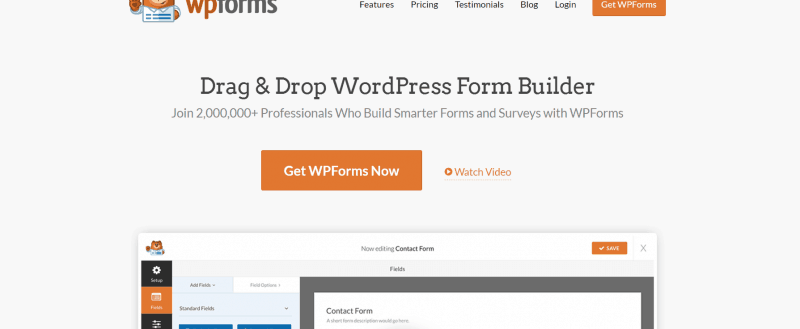 Using a form builder plugin like WPForms, you can easily create forms inside your WordPress blog. If you are with us for a while, you probably know WPForms. We have added a detailed WPForms review in our blog. There are so many form builder plugins are available for WordPress like Formidable Forms, Ninja Forms, Gravity Forms, etc.
But we always recommend and use WPForms. And last day, some of our users got asked how to create a file upload form using WPForms. In this post, we are going to show you the step-by-step method for doing it.
So, let's move to the tutorial.
What Is WPForms
WPForms is a freemium WordPress form builder plugin which is handled by the Awesome Motive, Inc. They also got the OptinMonster, MonsterInsights, SeedProd, etc. The basic version of WPForms is free. You can search for WPForms Lite in the WordPress plugins repository and simply install it from there.
However, like every free WordPress plugins, you will see some limitations in the free plan. For creating simple contact forms and suggestion forms, the free version is good enough. When you need more advanced features and power, we recommend you using the premium version.
When You Need a File Upload Form?
For improving your business.
Let's say that you are running a software troubleshooting business and also have a website for easy communication. When someone needs to show you a screenshot or send you a file, they need to upload the item to cloud storage like Google Drive, get the sharable link and send it to you via your contact form.
It will take some more time.
When you have WPForms in your hand, you can easily create a file upload form in your WordPress blog. So, the users will be able to upload files through the form directly. You can allow uploading images, documents, audio, video through the forms.
Here's a short video.
Before You Start.
Above, I've said that in the free version, you will get some limitations. So, you won't be able to create a file upload form using WPForms lite. You need to get your hands on the premium versions.
WPForms Pricing
According to the Gravity Forms plugin's pricing, WPForms is much affordable. At this time, they have four premium plans.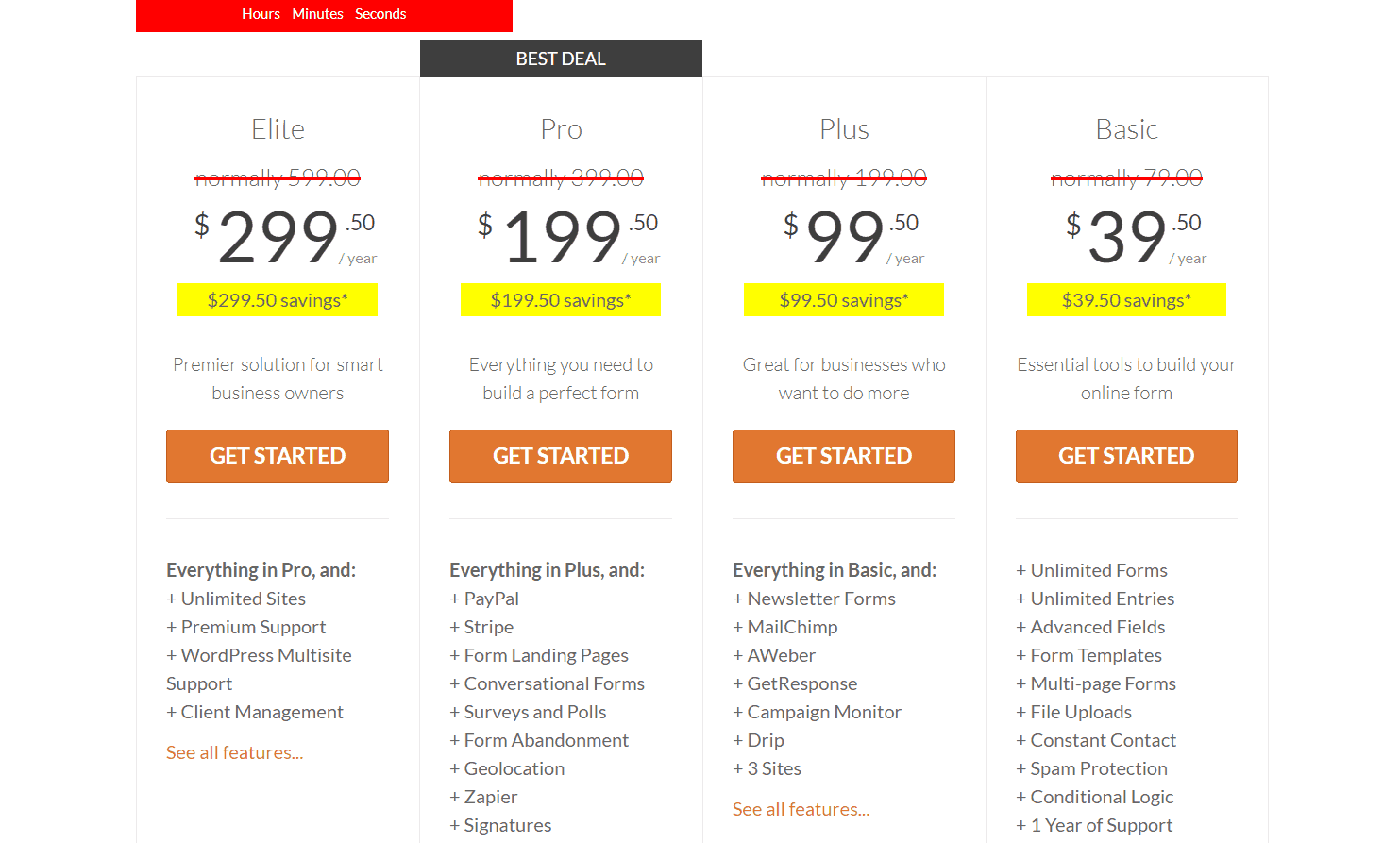 Basic – $39.50 a year.
Plus – $99.50 a year.
Pro – $199.50 a year.
Elite – $299.50 a year.
You will get the file uploads add-on in their Basic plan. So by spending $39.50, you can easily create a file uploads form using WPForms. On top of that, they also offer a 14-days money-back guarantee. If you are not happy with the plugin or purchase, you can get a full refund from the team.
No hard contracts.
All payments are processed through PayPal or Credit Card (Stripe).
How To Create a File Upload Form Using WPForms
I think you have already got installed and activated the WPForms plugin in your WordPress blog. Go to the WPForms settings and click on add new form. There, choose the simple contact form template.
A contact form will be there in the WPForms drag and drop form editor.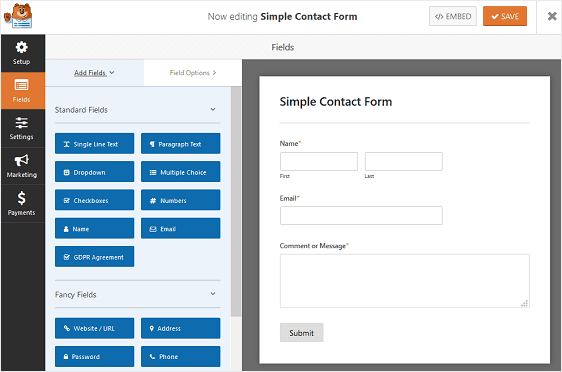 On the left side, you can see the elements. The right side will show you the live preview of the form. All you need to do is just drag items from the left side, drop it in the form. When you have the premium version of WPForms, you will see the file uploads element there. You just need to drag and drop it in the field.
For configuring it, simply click on the element. On the left side, you can see the options.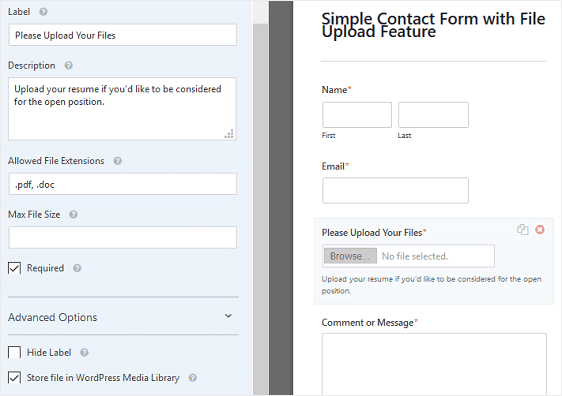 You will be able to configure the
Label.
Description.
File Extensions.
Max File Size.
Etc. WPForms offer another great feature called Conditional Logic. You can enable it to make your form even better.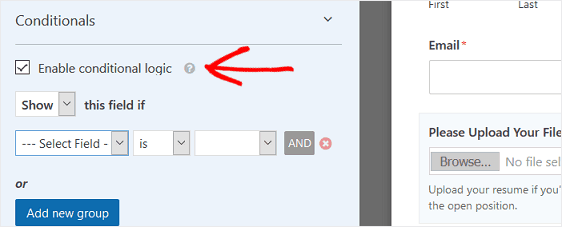 Simply save the form once you completed it. From the form settings, you can configure the admin email, subject line, message, etc. Once you completed those, simply insert the form to your post/ page or custom post type. You could do it using the shortcode. The form will look like:
So when someone uses your contact form, you could see all the messages from the WPForms entries section.
You could see the detailed view there.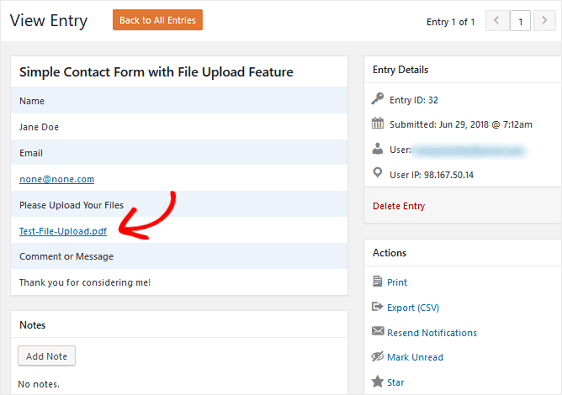 You can click on the media for downloading it. You can always create unlimited file uploads form inside your blog. There are no limitations. This is how you can create file upload forms inside WordPress.
Get Started With WPForms
You can purchase a WPForms premium plan from below.
Get Started With WPForms (Use Our WPForms Coupon)
We hope you found this post helpful and enjoyed the read. If you did, please consider sharing this post with your friends and fellow bloggers on social media.
WPForms
Features

Performance

Support

Ease of Use

Pricing
Summary
Do you want to create a file upload form in WordPress? A simple contact form plugin like WPForms will do the job. In this post, we are going to show you how you can create file upload form using WPForms.